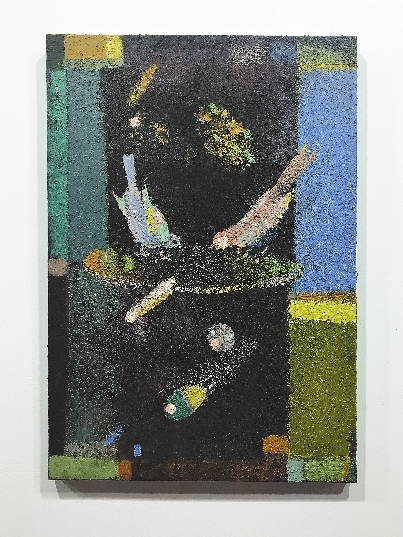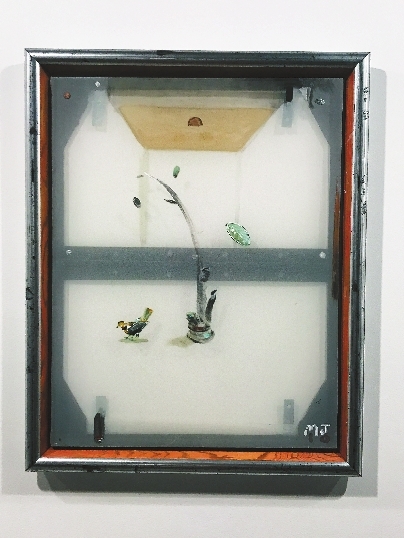 Cao Zhen
caozhen0806@126.com
"LONG Game: Merlin James," the first major solo exhibition in China by well-known British artist Merlin James, is being held at OCT Art & Design Gallery.
The exhibition provides a survey of James' 30-year career, featuring paintings and sketches, and brings together two distinct strands of James' work. In his "frame paintings," the artist paints on a transparent sheet of silk or nylon which has been stretched over picture frames. The wooden bars of the frame are exposed from behind as the background of his abstract paintings on the transparent sheet. The subjects can be a house, a tree, or a row of factory buildings.
His second group of paintings on display is the "black paintings," which are dense works of acrylic on canvas. Some of the paintings have a hole, exposing the white wall behind the canvas. The subjects are rural landscapes, such as a house with stacked chimneys, a bird landing on a branch or an isolated figure.
"The paintings — with their holes, stains, daubs of paint, and scraped surfaces — come across as the inescapable state of things, our shared material condition. We are all damaged things that will eventually be further defaced and vandalized by time. I cannot think of another artist who weaves together desolation and joy to such an exquisite pitch," U.S. critic John Yau wrote in a review on James.
James usually takes the form of small-scale paintings. "Don't be fooled by the modest scale, the seeming casualness, vulnerable materiality — no one calibrates effects as casually and perfectly as Merlin James, one of the most talented and ambitious artists working today — because he belongs to that small group of painters who eschew the big subject, objectivity, systematic approaches, and stylistic consistency — all those markers of what promoters call 'serious art.' In an era that celebrates celebrity, vulgar loudmouths, puerile provocateurs, selfie-addicts, and excessive materialists, James prefers subtlety over din, less rather than more," Yao added.
Born in Cardiff in 1960, James studied at Central School of Art and Design and the Royal College of Art. In his book "Painting Per Se," James wrote a description of his role model in art, U.S. painter Alex Katz, that could be equally applied to his own work: "His paintings are never repetitive, though they do not seek novelty; they are never cynical, though utterly disabused; they are always restless, strenuous and re-occurringly difficult, while never parading difficulties."
Dates: Until June 15
Hours: 10 a.m.-5:30 p.m., closed Mondays
Tickets: 8-15 yuan, free on Tuesdays
Venue: OCT Art & Design Gallery, 9009 Shennan Boulevard, Nanshan District (南山区深南大道9009号华-美术馆)
Metro: Line 1 to OCT Station (华侨城站), Exit C