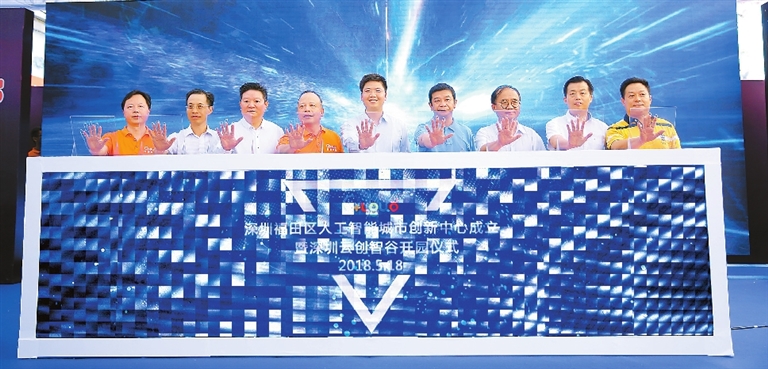 MORE than 200 guests gathered at the SEG Technology Park in Huaqiangbei to witness the unveiling of the Futian AI Smart City Innovation Center and Shenzhen Yunchuangzhigu Cloud Park on May 18.
The guests included vice head of Futian District Liu Zhiyong, chairman of Hongxin Entrepreneur Incubator Li Qiang, CEO of Yunchuangzhigu Science Co. Li Zhen, and representatives from Tencent, Baidu, Ping An, artificial intelligence (AI) companies and universities.
On the same day, 14 small and micro enterprises signed agreements to settle in the innovation center, which means 100 percent occupancy for phase one project of the center. The enterprises specialize in different segmentations of the AI industry, including intelligent robots, intelligent office, intelligent logistics, intelligent firefighting system and smart health.
According to experts, it's expected that three to five unicorn companies worth more than US$1 billion in the field of artificial intelligence will be incubated on this platform, which will represent the artificial intelligence enterprise cluster in Futian. They will work together with the government to create a national benchmark of mass entrepreneurship and innovation base and a global artificial intelligence city innovation center in the district.
"With strong support from the Futian district government, the Huaqiang-Shangbu area has turned into a cradle for enterprises specializing in robotics, wearable devices, smart equipment, new-generation information and technology, and the Internet of things," said a source with the Shenzhen Yunchuangzhigu Cloud Park.
According to a special policy involving the supply-side reform of Shangbu, a subarea of the Huaqiangbei Subdistrict, Futian subsidizes 60 percent of the space rented to businesses. But those businesses are not allowed to rent out the space at a price higher than 50 percent of the average price of their operated property, thus creating a highly cost-effective industry space for small and micro startups.
In terms of the self-used properties of innovative enterprises, Futian will also subsidize 60 percent of rent, which will greatly reduce the enterprises' operating costs and encourage more quality enterprises to settle in the Shangbu area.
(Chen Xiaochun)