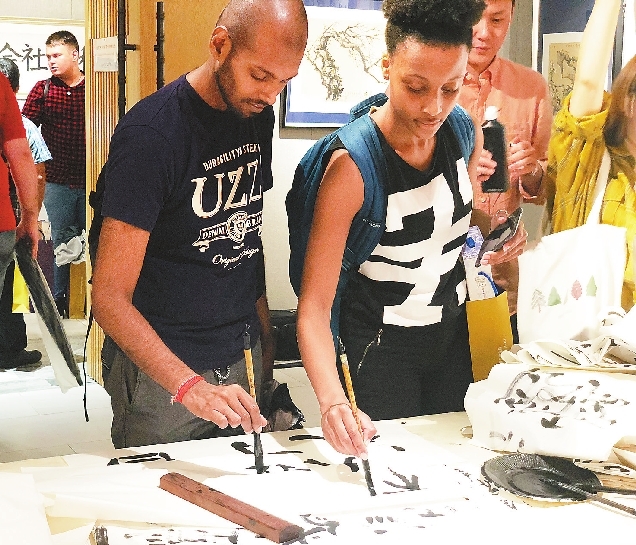 Tan Yifan, He Mufu
cicitan2011@gmail.com
THE second "Oriental Cup" Chinese Calligraphy Contest for the International Community was launched Wednesday with the aim of attracting expats from across the country to participate.
The contest is hosted by the Publicity Department of Futian District Committee of the CPC and organized by Shenzhen Oriental Art Gallery.
According to the organizer, this year, the contest will not only accept entries from expats in Guangdong but also welcome works from expat participants in other parts of China. Along with the competition, lectures, workshops and salons will also be held in Beijing, Shanghai, Guangzhou, Xi'an, Shenzhen, and Hebei and Shandong provinces.
Applicants must send their works to the organizer before Sept. 10. The finalists' works and award-winning calligraphy will be exhibited in the gallery.
Zhong Fanfei, chairperson of the Shenzhen Oriental Art Gallery, said the contest will continue to promote Chinese culture and enhance international communication.
"We wish to make the competition a well-known event in China and a signature cultural project of Shenzhen," Zhong said.
Chang Mi-yong, a Korean lady who won last year's first prize, shared her experience of practicing calligraphy at the launch ceremony. "I started to learn Chinese calligraphy when I was pregnant. I thought it would be a good way to educate the fetus. Gradually I fell in love with it and kept practicing each Monday and Wednesday," she said.
Allen Hernandez, a Shenzhen S.F. Express employee from Mexico and a runner-up in last year's competition, said he received six months of training when he first arrived in China. He then kept it up as a hobby and is now focusing on learning the writing style of Chinese calligrapher Zhao Mengfu (1254-1322).
According to the rules, the main content of the works can be Chinese ancient poetry, famous sayings or sentences. The works should be novel, elegant and positive. Each participant is allowed to send no more than three works to the organizer.
Enthusiasts can contact Mr. Zhang by sending emails to oriental_cup@sina.com or dialing 0755-23603200 for more information about registration and submission.
Last year, the organizer received about 200 calligraphy works from 170 contestants. Workshops were also held to help participants perfect their skills.