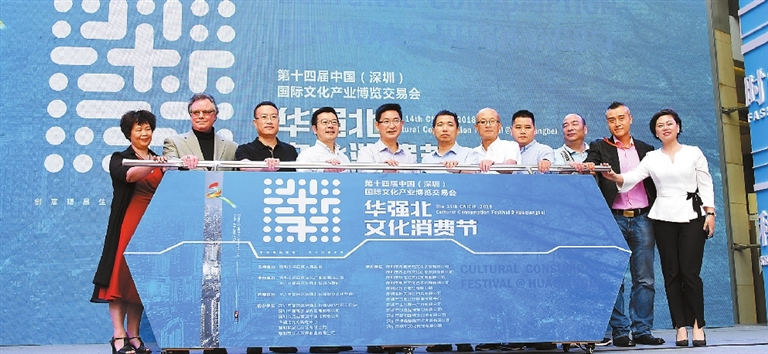 BESIDES serving as the main venue of the 14th China (Shenzhen) International Cultural Industries Fair (ICIF), Futian District staged the Huaqiangbei Cultural Consumption Festival and other events at a number of ICIF subvenues across the district in May.
The Huaqiangbei Cultural Consumption Festival kicked off in the electronics shopping mecca May 9.
More than 50 themed events and over 20 themed exhibitions, including a live printmaking demonstration, fashionable jewelry show, concert and seminars on stones and jewelry, were presented to visitors from home and abroad.
A handmade crown made by Asprey, a jeweler hired by the British royal family, was on display at the festival, marking its debut in China. Asprey is a high-end luxury brand in the U.K. with a history of more than 200 years.
The festival also had classic and old-fashioned movie projectors on display. A total of 30 such projectors and video cameras from the 1920s to 1980s aroused the curiosity of young audience members who can understand the evolution of the world's film projection technology.
For auto enthusiasts, the festival also had something to offer. More than 10 vehicles representing the history of China's automobile development, including Hongqi CA72 and civilian sedan Shanghai SH760, were showcased. In addition, world-class brands like Maserati, Porsche, Alpha Romeo and Cadillac also made appearances.
Futian District had also set up nine subvenues and 33 supporting cultural activities, focusing on the cultural heritage of the district as a central area in the city.
Covering an area of 561 square meters, the Futian exhibition hall featured four core themes, namely "high-end intelligent manufacturing," "diversified design," "top fashion" and "first-class gem," in a bid to showcase the major cultural achievements of the district.
The district also held a varieties of culture activities at Shenzhen Culture Creative Park, also an ICIF subvenue, to promote creativity, innovation and trade in the cultural industries in Futian.
"Cultural consumption is the best yardstick for measuring the spiritual outlook of a city," said a spokesman from the Futian government.
In recent years, the district has made great efforts to increase the effective supply of cultural products and cultural services, and to promote cultural consumption. The cultural festival held in Huaqiangbei was a perfect example of the district's determination to expand cultural consumption.
From 2006 to 2017, the added value of Futian District's cultural industry increased from 5.474 billion yuan (US$860 million) to 35.64 billion yuan, with an average annual growth rate of 11.7 percent.
The proportion of the added value to GDP increased from 4.7 percent to 9 percent. At present, there are more than 13,000 cultural enterprises in the district, of which 19 are listed cultural enterprises and more than 600 are above the designated size. There are 294,000 employees in the cultural industry. (Zhang Yu)