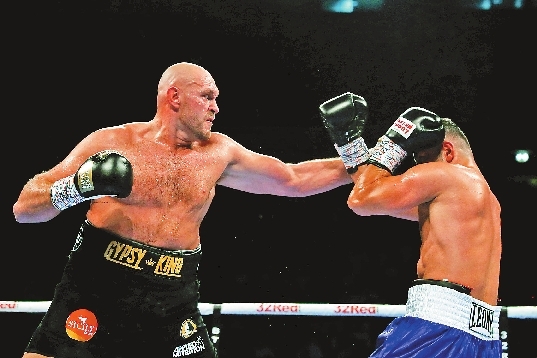 FORMER world heavyweight champion Tyson Fury declared himself completely happy with his four-round comeback win Saturday night, despite the lack of action.
Fury only got going in the fourth round and his brief exhibition of power convinced Sefer Seferi's corner to pull out the Switzerland-based Albanian before the start of the fifth round.
Fury, 29, did not take his task totally seriously early on and was told off by referee Phil Edwards for playing to the crowd, but the English boxer was pleased it was not a short fight after two years and seven months out of action.
"He didn't come to fight, he came to run around the ring," Fury told a press conference.
"The opponent was small and light. But he took me a few rounds, which I was happy with.
"I wouldn't change a thing, and we move on to the next one. I will go back home and have pizza and then get back on it tomorrow.
"I could have knocked him out in the first round but what good would that have done me? I got four rounds in and TV exposure."
Seferi, who was nearly five stones lighter and seven inches smaller, did show some ambition early on but Fury's height and movement ensured there was never going to be an upset at Manchester Arena.
It was always comfortable for Fury in his first fight since winning the World Boxing Association (WBA), International Boxing Federation (IBF) and World Boxing Organization (WBO) titles from Ukraine's Wladimir Klitschko on points in November 2015.
But Fury's reign was brief with rematches twice cancelled against Klitschko before he admitted to problems with depression, drink and drugs. Fury then piled on the pounds — he claimed to have lost eight stones in preparation for Seferi — and served a backdated drugs ban for testing positive for a banned steroid in February 2015.(SD-Agencies)