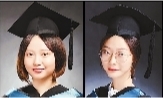 TWO college students who graduated this month donated 1 million yuan (US$156,184) to Chinese University of Hong Kong, Shenzhen upon their graduation.
The donation of 1 million yuan over a span of five years made by Li Zhixuan and Yan Danyang will be used for the construction of infrastructure on the campus and to support startup projects by CUHKSZ students, according to the Shenzhen Evening News.
Li and Yan were roommates at the university and they started up a public app called "leadygo" in October 2015 to meet the daily needs of students at the university with such services as delivery, item exchanges, study groups, training and overseas education.
The university was inaugurated in September that year when the infrastructure on the campus was so simple that some daily needs of the students could not be met.
"We started the app to cater to students' needs," Li said of their app.
They earned 800 yuan from a small business near the campus shortly after launching the app. They helped the business organize a cooking competition. However, it was not easy for Li and Yan to get much business in the beginning.
"When we tried to negotiate with some businesses to help them organize activities, they didn't trust us because we were students," said Li. "Some mistook us for fraudsters, or gave us cold shoulders," she said.
They decided to start their business by organizing campus and training activities to show others their abilities and gradually they gained trust from society, said Li.
Their business got on the fast track in November 2016 when they diversified their services and set up a company offering marketing plans for self-employed businesspeople and small companies. At the end of 2017, their company was valued at 30 to 40 million yuan.
According to the university's innovation, creation and entrepreneurship center, the university provided 100,000 yuan to support them in starting up their business.
Li and Yan will continue their postgraduate studies after graduation. (Han Ximin)