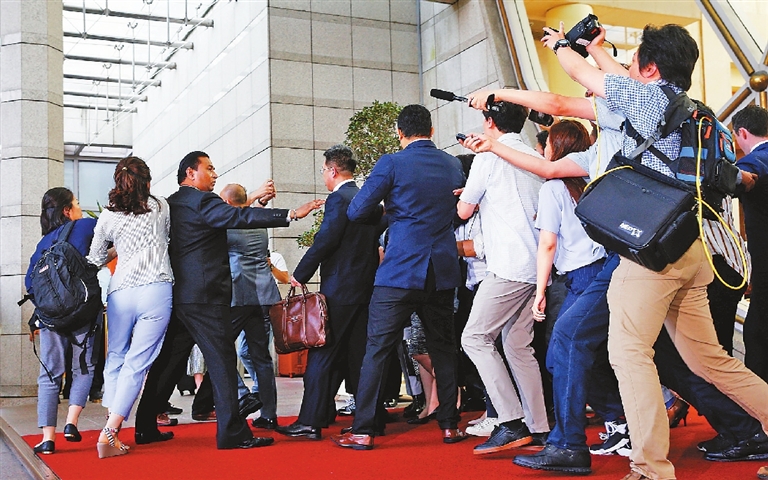 OFFICIAL media of the Democratic People's Republic of Korea (DPRK) said yesterday that the country's top leader Kim Jong Un will focus his talks with U.S. President Donald Trump on establishing a permanent peace mechanism and the denuclearization issue on the Korean Peninsula.
The Korean Central News Agency (KCNA) said Kim and Trump will exchange at their upcoming summit "wide-ranging and profound views on the issue of establishing new DPRK-U.S. relations, the issue of building a permanent and durable peacekeeping mechanism on the Korean Peninsula, the issue of realizing the denuclearization of the Korean Peninsula and other issues of mutual concern, as required by the changed era."
They arrived in Singapore Sunday for the summit, which is scheduled to take place at the Capella Hotel on Singapore's Sentosa Island today. It will be the first meeting between a sitting U.S. president and a top DPRK leader.
China sincerely hopes that the upcoming summit will yield positive outcomes, Foreign Ministry spokesperson Geng Shuang said yesterday.
The meeting between the two leaders has drawn high levels of attention from the international community, Geng said, stressing that China sincerely hopes the meeting will facilitate the process of denuclearization and political settlement of the Korean Peninsula.
South Korean President Moon Jae-in and Trump yesterday held a phone conversation.
Moon's spokesman Kim Eui-kyeom told a press briefing that Moon told Trump that he and South Korean people will wholeheartedly pray for a successful DPRK-U.S. summit.
The two leaders made a detailed discussion on how to make the DPRK-U.S. summit a success.
If Trump and Kim sit down face-to-face and frankly talk to find a common ground between the two sides, the two leaders could gain a big achievement, Moon and Trump agreed.
After the DPRK-U.S. summit, Trump will send U.S. Secretary of State Mike Pompeo to South Korea and China to explain the result of the summit.
Trump said he would consult with Moon on South Korea-U.S. cooperation to concretely implement the outcome of the DPRK-U.S. summit.
During a weekly meeting with his senior secretaries yesterday, Moon said that the Trump-Kim summit was anticipated to be a historic milestone for peace on the Korean Peninsula. He praised Kim and Trump for their bold determinations.
Trump said earlier that the summit could be a "get-to-know-you" session, indicating it would take more than one meeting to reach the eventual goal of complete denuclearization.
Moon said the deep-rooted animosity and the denuclearization issue cannot be resolved through a one-time summit, forecasting that it could take one, or two years, and even longer to completely resolve the issues even after the Kim-Trump summit opens a door.
The Korean Peninsula remains technically at war as the Korean War ended with armistice, not a peace treaty.
(Xinhua)