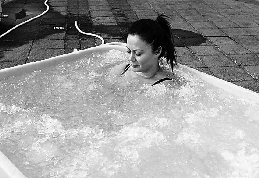 LEA MARIE GALGANA broke Iceland's national record for longest time spent in an ice bath at the third annual ice bathing championships last week.
She sat in a bath at a temperature of 0°C for an astounding 42 minutes and 20 seconds.
Seven people competed overall.
The previous record was held by Vilhjálmur Andri Einarsson, who remained in an ice bath for 20 minutes during last year's competition.
The competition is organized by Benedikt S. Lafleur and aims to draw attention to the health benefits of cold bathing.
(SD-Agencies)