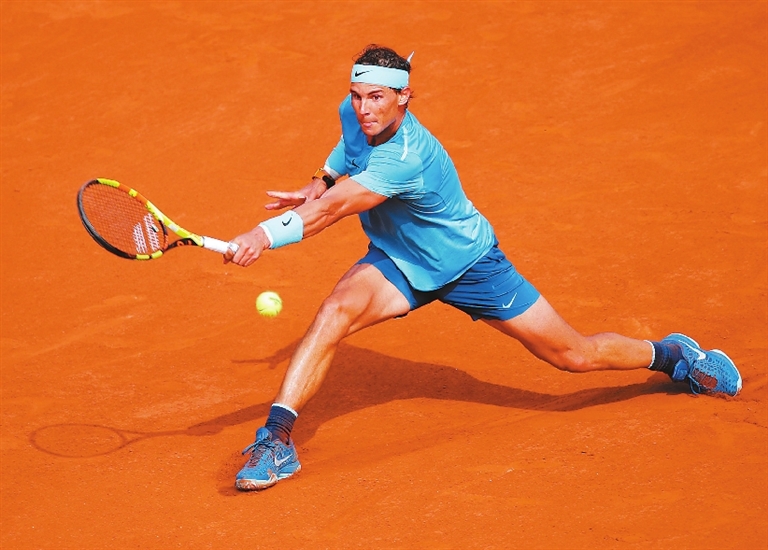 RAFAEL NADAL defeated Dominic Thiem 6-4, 6-3, 6-2 to win a record-extending 11th title at the French Open.
Nadal became the second player in tennis history to win 11 singles titles at any Grand Slam tournament after Margaret Court, who claimed 11 Australian Open titles.
Nadal will remain at the top of the ATP rankings ahead of Roger Federer. Nadal and Federer have won the past six Grand Slam tournaments between them.
Nadal led by two sets plus a break early in the third, when the middle finger on his racket-wielding left hand was cramping so badly he couldn't straighten it. After serving a fault, Nadal took the unusual step of heading to the sideline in the middle of a game.
"Tough moment," Nadal would say later. "I was very scared."
Up in the stands, Nadal's uncle Toni, his former coach, was nervous too, "because I thought maybe we can have a problem," he said. "But in the end, it was not too difficult."
It rarely is for Nadal at a place he has lorded over the way no other man ever has at any Grand Slam tournament. Nadal dealt with that ultimately minor inconvenience and claimed his record-extending 11th French Open championship Sunday by displaying his foe-rattling excellence in victory over No. 7 seed Thiem.
"There is a reason why he won 11 times here," said Thiem, a 24-year-old Austrian appearing in his first major final. "It's definitely one of the best things somebody ever achieved in sport."
Thiem was on the couch, watching on TV, in 2005, when Nadal earned his first Grand Slam trophy in Paris at age 19. That began a run of four consecutive French Open triumphs through 2008. He added five straight from 2010-14 and now has two in a row.
Throw in three titles at the U.S. Open, two at Wimbledon and one at the Australian Open, and Nadal is up to 17 majors, second among men only to Federer's 20.
If there were any reason for a bit of intrigue entering Sunday, it was this: Thiem beat Nadal on red clay at Rome in May 2017 and again at Madrid last month.
But those are not quite the same as the French Open, where Nadal is 86-2 for his career.
"I am sure you will win here in the next couple of years," Nadal told Thiem afterward.
It was a cloudy and steamy afternoon, with the temperature at 24 degrees Celsius and the humidity approaching 70 percent.
Midway through the opening set, Nadal's aqua T-shirt was so soaked with sweat it stuck to him.
Those conditions might have contributed to the cramping that affected Nadal about two hours into the final, at 2-1 in the third set.
"I was not able to move the hand, the finger," Nadal said. "I was not in control of my finger."
"If you tell me seven, eight years ago that I will be here ... having this trophy with me again, I will tell you that is something almost impossible," Nadal said. "But here we are." (SD-Agencies)