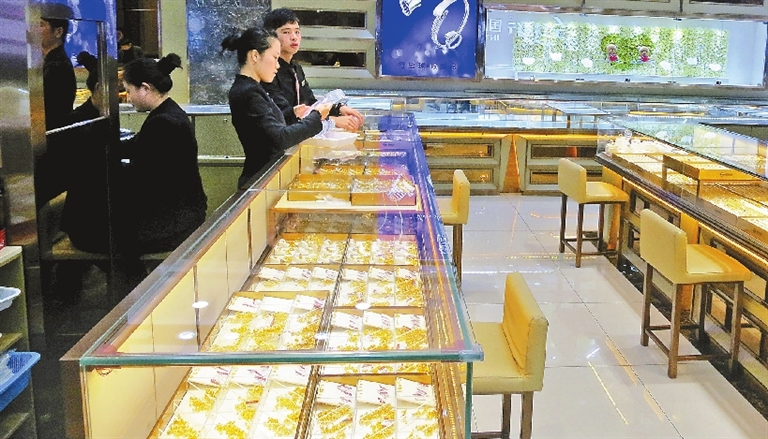 GOLD jewelry sales in China are finally picking up after years of decline, but consumers are still shying away from platinum.
Chinese jewelry sales are a key component of global demand for both physical gold and platinum, accounting for 14 percent and 16 percent of consumption respectively. Since peaking in 2013, both have fallen by around a third.
Analysts and jewelers report that a lack of trust in platinum, as well as the higher cost of exchanging platinum pieces for cash, make it a less appealing store of value for older buyers.
Meanwhile fashion-conscious young consumers are favoring lower purity gold for day-to-day wear.
"Chinese people traditionally prefer gold," a sales associate who gave only her surname, Wang, said in central Beijing at Caibai Jewelry, which has stores across China's northern regions.
"Gold sales are much better than platinum because it is a hard currency that can be changed into cash at any time, if there is an emergency."
According to World Gold Council data, Chinese gold jewelry sales rose 7 percent in the first quarter, having climbed in 2017 after three years of decline brought on by a shift in consumer spending to other areas like foreign travel.
Early reports suggest Chinese platinum jewelry purchases fell by a similar degree in the first quarter of the year, after extending a run of annual declines into a fourth year last year.
Chinese consumers, particularly in rural areas, do not have the strong cultural affiliation with platinum that they have with gold.
"Shops aren't advertising platinum enough," said Hu, who manages another Caibai Jewelry store on the outskirts of the capital, and who also declined to give his first name. "Sales of platinum products used to be much better two or three years ago."
Platinum retails at a lower price than pure gold, making it attractive to younger buyers with less disposable income.
But analysts say those consumers are also favoring 18-carat gold, with a cultural preference for gold metal over white persisting.
At a presentation for London Platinum Week in May, Platinum Guild International attributed lower Chinese platinum jewelry demand to a preponderance of outdated pieces in shops.
Chinese jewelers admit the inventory overhang is a problem.
"It is a headache," Hu said. "We are not planning to remodel it. We will just keep selling it, or we will leave it in storage."
Reworking platinum, a notoriously hard metal, is a much tougher process for jewelers than remodeling more pliable gold, a problem for those who buy pieces as a store of value.
Jewelers charge a workmanship fee to exchange old platinum products for new of 32 yuan (US$4.7) per gram, compared to 18 yuan for gold.
That makes it harder for consumers to recoup the original cost of a platinum piece — a big issue for those who see jewelry as a source of ready cash.
"Consumers can take an old (platinum) piece back to trade for a new piece (or) for cash, but the bid-ask spread is 3 to 5 percent, compared to gold at around 1 percent," GFMS analyst Samson Li said.
Li is forecasting a further drop in platinum jewelry sales this year, but says the picture is not necessarily much rosier for gold, in spite of its first-quarter increase, due to uncertainty about Chinese economic growth.(SD-Agencies)