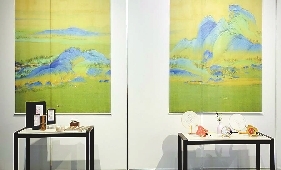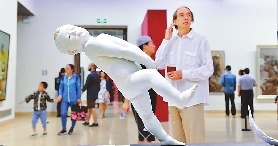 Chinese silk in Paris
"EXHIBITION Reconstruction: Techniques and Design of Chinese Silk" opened at the Paris China Cultural Center and will run through June 28.
Sponsored by the China Culture Center in Paris and the Zhejiang Provincial Culture Department, and organized by the China National Silk Museum, the exhibition is another highlight of the Chinese Culture and Tourism Ministry's international program for China Week: Inheritance and Innovation — a monthlong event focusing on cultural creative products from China.
Using silk as the medium, the new exhibition presents the techniques and charm of ancient Chinese silk through four subthemes: embroidery, printing, weaving and dyeing.
Creative designs in Bangkok
A NEW exhibition opened at the China Cultural Center in Bangkok last week, showcasing the inheritance and innovation of cultural relics from the Palace Museum in China.
"International Exhibition of Cultural Creative Products" from Palace Museum features creative designs infused with traditional Chinese styles, inspired by collections in the Palace Museum.
Exhibition puts youth art under spotlight
MORE than 380 art pieces created by young Chinese artists are showcased in the National Art Museum in Beijing to reflect the new development and artistic characteristics of contemporary art among young people. The exhibition runs through June 24 and will then tour places including Jiangsu, Qinghai, Gansu and Hebei provinces and Inner Mongolia Autonomous Region.
(SD-Agencies)