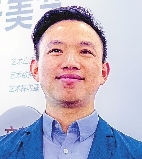 Zhang Yu
JeniZhang13@163.com
ESTABLISHED in 1993, Artron Art Group celebrates its 25th anniversary this year. For over two decades, the Shenzhen-based company has been advancing in steady strides, marked by a series of milestones in its business development and expansion.
Artron was set up as a printing company during the booming era of the industry. Therefore, in order to stand out from a slew of competitors, the company adopted a differentiation strategy and specialized in art printing.
"Concentrating the best resources on a very specific field has helped take our technology and the quality of our products and services to a higher level," said Peter Peng, vice president of the company.
During the period, the company began to establish relationships with a large number of clients, such as artists, art institutions, auction companies, galleries, publishers and museums.
"Our company became known to others as our products started to enter the international market. But they still didn't have a deep understanding of the company itself. Thus, we realized that we needed to present the company to foreign art institutions in a more systematic and comprehensive way," said Peng.
In 2003, Artron participated in the American printing awards for the first time. With elaborate preparation, the company successfully took home the top award.
"If we really want to be recognized by the industry on the international stage, we must first have Chinese characteristics. Second, our core goal as a company is to provide the best products and quality ultimately, so we must showcase the best products that represent our services and technology," said Peng.
According to him, the core element of an enterprise is its products and services. On that basis, if the company wants to enter the global market, entering contests that represent the highest levels of the industry is indeed an effective way to build a brand.
To adapt to the era of digital information and mobile Internet, the company has also initiated an innovative business model by taking advantage of big data, cloud computing and other leading technologies to provide more diversified services to its audience and customers.
At present, the company has digitalized more than 40 million pieces of art-related data for the country's art industry, turning them into digital documents and categorizing them so searching is easier. Additionally, a variety of new applications are being designed to provide access to art news and online exhibitions.