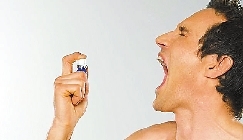 可以检测到口臭的传感器
Chemists have developed a sensor which can detect halitosis*, turning brown if it is time to swig some mouthwash. It works by picking up hydrogen sulphide*, the chemical which smells of rotten eggs and is a major cause of bad breath.
Almost a third of people suffer from halitosis, which is usually caused by bacteria* build-up.
To develop their sensor, the team used lead acetate*, a chemical that turns brown when exposed to hydrogen sulphide. They then anchored the substance* to a "nanofiber* web" to provide more locations where it could react with the gas.
The study states, "It is essential to enhance the detection limit down to one part per million of hydrogen sulphide since halitosis patients exhale* up to two parts per million of hydrogen sulphide."
The test was developed by chemists at Korea Advanced Institute of Science and Technology, working with the Massachusetts Institute of Technology.(SD-Agencies)