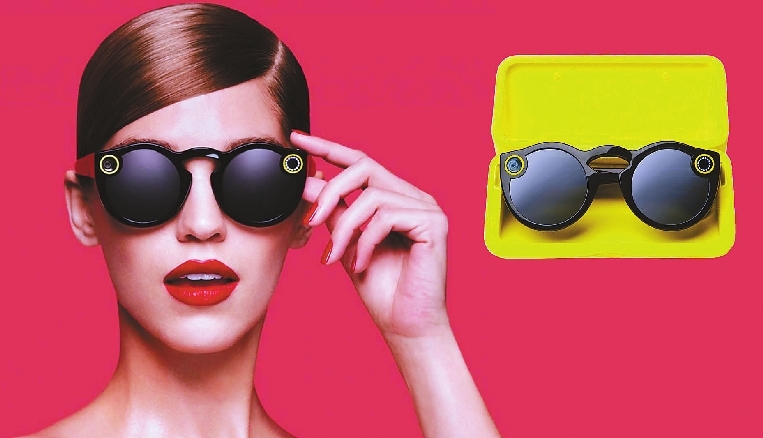 Snapchat第二代智能眼镜开售
Snapchat's second-generation Spectacles can now be purchased on Amazon.
The new version of Spectacles are priced at US$150 and include a new option to take photos. They can be worn underwater and have faster HD* syncing* capabilities. They're available in three new colors: Onyx* Moonlight, Sapphire Twilight and Ruby Daybreak.
The company said it put a lot of effort into improving the second-generation Spectacles, with updates like water resistance, better audio and video quality and more. The new glasses are more discreet than the previous model and the case is around a third smaller.
There is still a little circle of white lights when recording but there is no permanent yellow ring, according to the company which first debuted its first version of the Spectacles back in 2016.
Developers say the Spectacles have enough video capacity to record 10 videos a day for a week on normal charge. Users can long-press for a photo or tap for 10-second video with extra taps to extend the clip for up to 30 seconds.
The ring of lights illuminate* to let people know they are being recorded. The field of vision has also been reduced from 115 to 105 degrees, meaning some of the fish-eye warping* is cut off.
Syncing the snaps to the user's phone requires bluetooth rather than using QR code scans and all exports are in HD. Transfers happen four times quicker than on the previous glasses, developers say.
There are now two microphones as opposed to just one. This makes audio higher quality and there is also greater noise depth when listening back to clips. This means it is also easier to tell who is talking in videos.
Users will need the latest version of Snapchat installed on an iPhone 5 or later running iOS 10 or above, or an Android phone running Android 4.4 or above.
(SD-Agencies)