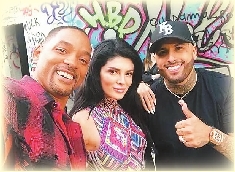 Live It Up
Nicky Jam featuring Will Smith and Era Istrefi
One life, live it up, 'cause we got one life
One life, live it up, 'cause we got one life
One life, live it up, 'cause you don't get it twice
One life, live it up, 'cause you don't get it twice
Strength in numbers is a force we can mix
We raise our flags and put our pride on our back
We feelin' like a champion when we shine our light
We got the power, make a nation correct
...
One life, one dream
One moment, one team
One you, lights high
Thousand roadblocks, one shot
One truth, no fears
One flag, oh yeah
We've been waiting for this all year
Where y'all at? We're right here
Ya empezo la rumba y estamos celebrando
Todo el mundo que me levante la mano
'Tamos vivos, hay que disfrutarlo
Hoy nadie me detiene porque yo no se parar, no, no
...
For the love, I'm a rebel, I'm coming from
Every nation under the sun
Elevating their favorite song when we hit and run
You own it, you got it
The whole world is watching
So let's get this pumping
Where y'all at? We're right here
Only one life to live, got so much to give
Fighting for the nation now, that is my gift
Run like a champion and win like a king
That's my only goal, my everything
Living up now, now
...
That's win when you reached that goal
Background
This year's World Cup song is soundtracked by Will Smith, Era Istrefi and Nicky Jam (produced by Diplo). Nicky Jam, the American singer of Dominican and Puerto Rican descent, proves the music industry's current obsession with Latin American music, but the song has been criticized a lot for not paying any tribute or reference to this year's host country Russia.