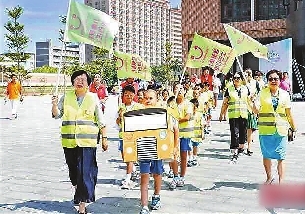 宝安区福海街道桥头学校全国率先启动"步行巴士"
Today, most schools in Shenzhen face a common challenge: After class is dismissed, the school gates are jammed with a multitude of parents and cars picking students up, leading to crippling traffic jams. However, parents are too worried to let their kids make the journey home alone. To solve this issue, Shenzhen Qiaotou School initiated a "walking school bus" program in late May.
A walking bus is a form of student transport for schoolchildren who, chaperoned by two adults (a "driver" who leads and a "conductor" who follows), walk to school along a set route in much the same way a school bus would drive them to and from school.
Like a traditional bus, a walking bus has a fixed route with designated "bus stops" and "pick-up time" when it picks up children.
The walking bus concept was first implemented in the United Kingdom, and the concept's installment by Qiaotou School is its first in China.
All the students and the two adults accompanying the walking bus wear fluorescent vests to ensure safety. The two adults who serve as the "driver" and the"conductor" are volunteer parents. While walking the route, they will impart knowledge on transportation safety to the students.
According to an information source familiar with Qiaotou School, the walking school bus will enhance student transport safety while enabling students to learn more about transportation safety and meet new friends through the process. At the same time, it solves daily traffic issue at the school's gates.
"After investigation and discussion, currently we have five routes for the walking school bus," according to the information source. Among the routes, route No. 1 starts at Qiaotou School, passes Tangwei Block 24 and reaches Happiness Garden. The whole route is 500 meters in length and it takes 15 minutes to walk the whole route.
(Chen Xiaochun)