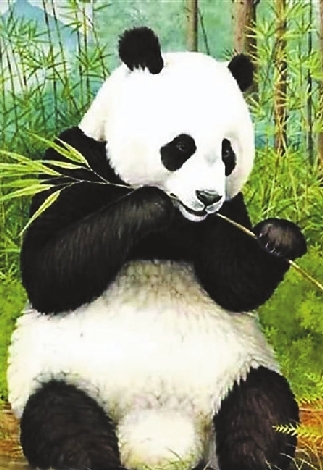 Xia Tiemu, Shenzhen Foreign Languages School Instructed by Zeng Yuli
深圳外国语学校高二(14)班 夏铁木
指导教师 曾瑜璘
In recent years, the captive breeding of giant pandas in China has been a huge success. With more than 1,000 in the wild, the giant panda is no longer one of the endangered species.
Thirty years ago, the giant panda was designated to be a national treasure mainly because of its extreme scarcity. However, nowadays, it turns out that no matter the number of the giant panda is small or big enough, people are not likely to draw back the title they have given it. That is a significant change in the cultural mindset.
In fact, the giant panda is now functioning more culturally than biologically.
When someone says that he/she likes panda, the reason must be because the giant panda is very cute, or because of some valuable memories.
Not only for people but for countries does this cultural idea work. If China sends a giant panda to another country, no one will misunderstand the friendship we want to transmit. It is sometimes better, firmer and more explicit than any diplomatic words when showing our positive attitude. One of the famous examples happened in 1972, when former U.S. President Richard Nixon visited China. Chinese late Premier Zhou Enlai gave the United States such a cute animal as a signal of reversing the Sino-U.S. relationship.
Does it only symbolize a bilateral harmony? Probably more.
Samuel Huntington believed that the conflicts around the world are caused mainly by the clash of different civilizations. In a certain logic, he may be correct, but there is always a blurred consciousness in my mind that the concept of civilization or culture will never be constraint for human beings to enjoy a shared peace in the future.
Every time I see the giant panda in picture, in television, or in a zoo in person, it reminds me that people from all civilizations have a common preference, an impulse, a love for lovely little things. Obviously, we all love the cute, the nice and the beautiful things instead of those ugly, violent and bad ones, just because we are human beings, we are the same, and we are what we see from each other.
Don't human beings have much in common? Will the world itself become one civilization based on mutual understanding? Probably, yes.
It may be someday that all humans are united together peacefully and successfully, and consequently, there will neither be cultural conflicts nor wars. The giant panda, or say, the image of the giant panda in the human mind, is able to tell us a lot, much more than we currently know.