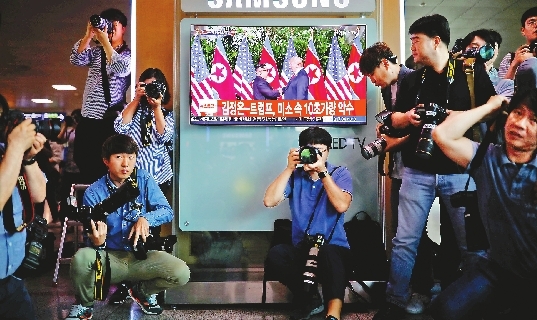 WORLD governments reacted positively to the summit between DPRK leader Kim Jong Un and U.S. President Donald Trump.
China's Foreign Minister Wang Yi said the meeting was "creating a new history."
"The DPRK and the United States have been in a state of antagonism for more than half a century," Wang said. "Today, that the two countries' highest leaders can sit together and have equal talks, has important and positive meaning, and is creating a new history."
At the ministry's daily briefing, spokesman Geng Shuang said China "welcomes and supports" the talks and that the United Nations Security Council's sanctions against the North could be suspended or lifted in accordance with the DPRK's actions.
"Sanctions are not an end," Geng said. "We believe the Security Council should make efforts to support the diplomat efforts at the present time."
Russian Foreign Minister Sergei Lavrov said he approved of Trump's meeting with Kim, Interfax reported.
"The mere fact of the meeting between the leaders of the United States and the DPRK is positive," he said.
But Russia's Deputy Foreign Minister Sergei Ryabkov said as far as the deal struck, the "devil was in the details."
Ryabkov said Russia was prepared to help with the denuclearization and also hoped the talks would unblock normal economic cooperation.
South Korean President Moon Jae-in said he "could hardly sleep" in anticipation of the meeting and expressed hope for "complete denuclearization and peace."
"All the attention of our people is on Singapore," he told Cabinet ministers. "I too, could hardly sleep last night."
Moon hailed the outcome of the summit between Trump and Kim as a "historic event" that ended the last cold war conflict.
"I offer my heartfelt congratulations and welcome the success of the historic North Korea-United States summit," Moon said in a statement.
"The June 12 Sentosa Agreement will be recorded as a historic event that has helped break down the last remaining cold war legacy on Earth," he said.
Japanese Prime Minister Shinzo Abe expressed hope that the unprecedented summit will lead to a successful resolution of the DPRK nuclear and missile issues.
"North Korea has rich [natural] resources and a diligent workforce. It will have a bright future if it treads the right path," Abe said.
Officials said the issue of Japanese nationals abducted by the DPRK would still be a priority for the government.
The EU praised the summit as a "crucial and necessary step," saying it indicated "complete denuclearization" of the Korean peninsula could be achieved.
"This summit was a crucial and necessary step to build upon the positive developments achieved in inter-Korean relations and on the peninsula so far," the EU's diplomatic chief Federica Mogherini said in a statement.
However, Iran had a word of warning for the DPRK following the collapse of Tehran's nuclear deal with the West earlier this year.  (SD-Agencies)