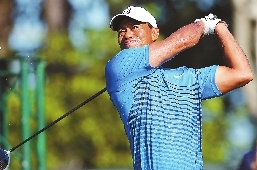 TIGER WOODS returned to the U.S. Open for the first time in three years and hardly anyone noticed.
Then again, it was late Sunday afternoon. Shinnecock Hills was practically empty. Such a quiet moment was rare for Woods in his celebrated return following four back surgeries. A year that began with intrigue soon gave way to hysteria over anticipation of his first victory in nearly five years.
That time has not arrived as Woods heads into the second major of the year.
"Golf is always frustrating," Woods said Tuesday. "There's always something that isn't quite right, and that's where we as players have to make adjustments."
It has been 10 years since Woods won his last U.S. Open. All it takes for him to temper any frustrations is to look back at last year, when he didn't know if he would even play another U.S. Open. (SD-Agencies)