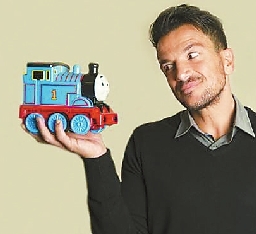 PETER ANDRE is to guest star in the new "Thomas the Tank Engine" film.
The Australian singer will voice his compatriot, Ace — a dare-devil yellow rally car — in "Thomas and Friends: Big World! Big Adventures!"
The animated film, set for release in July, will see Ace mischievously inspire Thomas to leave Sodor and travel the world without the Fat Controller's permission.
Andre said it was an "honor" to appear in the much-loved children's franchise.
"[It is] such a buzz for me to be doing my first worldwide movie voiceover for something that I grew up on and loved as a child and that my kids now love, too," he added.
The 45-year-old, a father of four, also praised the inclusive nature of the storyline, which will see Thomas explore five continents for the first time.
"It is incredible for me to help introduce young viewers to the diverse range of cultures, different ways of life and animals that exist on our planet today."
He said it is "really nice to see that Thomas & Friends" has embraced this — it is a great new direction for the show and I think it's going to be fantastic."
Andre joins the list of previous voiceover stars Eddie Redmayne and Olivia Colman.
Andre, now also a TV personality, says the title reflects the nature of his character, as well as his own personality.
"A lot of people have this image of Australia as being very carefree and I live like that. It's so nice to play a character that represents that," he added.
(SD-Agencies)