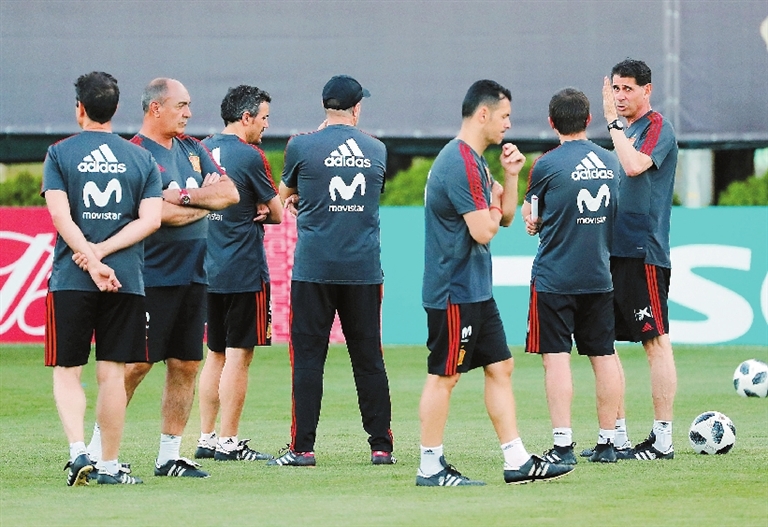 SOME people in Spain agree that national team coach Julen Lopetegui had to go. Others believe the chaos on the eve of the World Cup just made a bad situation worse.
Lopetegui was fired Wednesday, two days before Spain's opening match against Portugal, because he accepted a job Tuesday to coach Real Madrid next season.
"It is clear to me that this was poorly handled and that the national team will be harmed by it," Spain fan Jordi Casares said. "Madrid put its interests first, as did Lopetegui, and Spanish federation president Luis Rubiales was left in a very tough spot. Nobody thought about what was best for the national team."
Television and radio commentator Manolo Lama, summing up the state of bewilderment caused by the decision, said the team's success will rely solely on the players.
"Our World Cup is in the hands of Sergio Ramos, Andres Iniesta, David Silva, Diego Costa and company," Lama wrote on Twitter. "Only they can put out this fire. Now more than ever we must be with our players."
However, former Spain great Xavi Hernandez said the federation did the right thing.
"I think Rubiales acted correctly and was looking out for the federation, which should be above any single individual," Hernandez told sports daily Marca. "It wasn't an easy situation but I think he did the right thing. The players have seen things like this before and I am sure they are going to have a good World Cup."
Spain left for the World Cup in Russia free of distractions and with high hopes of competing for the title it won in 2010.
After all, Lopetegui had impressed by leading the national team to the top of its qualifying group and had kept it undefeated in 20 matches since taking over from Vicente del Bosque in 2016.
But Madrid's announcement that Lopetegui would replace Zinedine Zidane at Real Madrid immediately caused controversy around the Spanish national team. Rubiales then announced his decision to part ways with Lopetgui, saying the federation was "compelled to act" because of the betrayal.
Sergio Ramos was the first player to speak up. "We are the national team. We represent this emblem, these colors, our fans, a country," the Spain captain wrote on Twitter. "Our responsibility and commitment is to you. Yesterday, today and tomorrow, together."
(SD-Agencies)