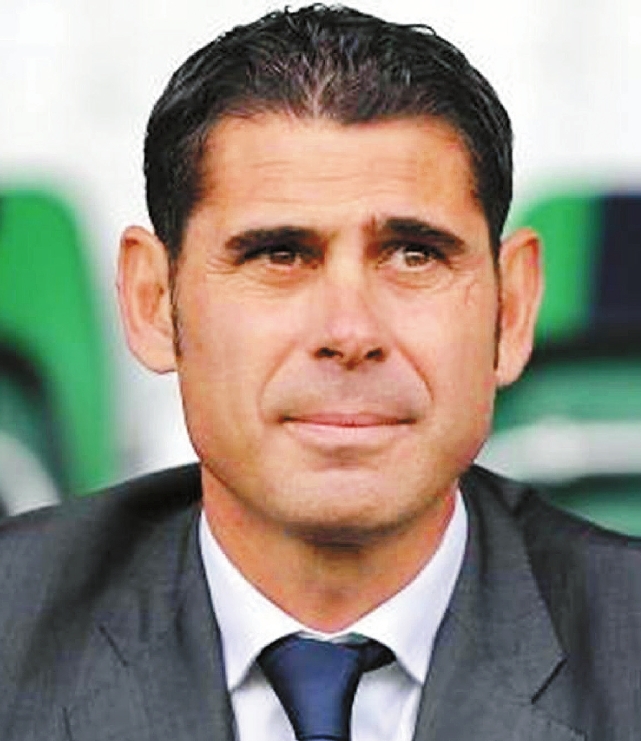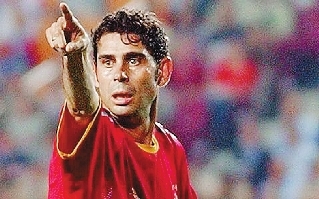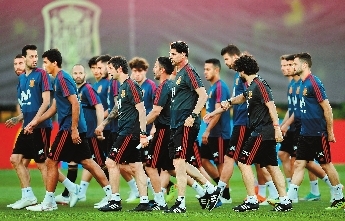 FERNANDO HIERRO didn't hesitate when asked if he would be happy to become the Zinedine Zidane of the Spanish national team.
"I would sign for it," said Hierro, smiling broadly only a few hours after being named the Spain national soccer team coach in a chaotic shuffle two days before the team's opening World Cup match. "I hope so."
Hierro is taking on a major coaching job without any significant previous experience, just as Zidane did at Real Madrid. The former France great went on to win three straight Champions League titles as coach before quitting last month.
Hierro took over as coach Wednesday, shortly after the national soccer federation's shocking decision to fire Julen Lopetegui for accepting a job to lead Real Madrid next season without letting officials know in advance.
Hierro's first match in charge is against European champion Portugal in the teams' World Cup opener in Sochi on Friday.
"I couldn't have said 'no,'" Hierro said. "I wouldn't forgive myself."
The 50-year-old Hierro, who was acting as the federation's sporting director, has loads of experience as a player but his only head-coaching job was with second-division club Real Oviedo two seasons ago. He had previously been Carlo Ancelotti's assistant at Real Madrid after Zidane left the post in 2014.
"I only have one year of experience with Oviedo and one year of experience as an assistant coach," Hierro said. "(But) I've been near a ball for 30 years."
Three Champions League titles, captain of his country and Bolton's ninth greatest player ever — there is not much that Hierro cannot boast on his CV.
Although there were suggestions that Luis Enrique, Zinedine Zidane or even Arsene Wenger would be appointed on a short-term basis as the coach for the national team, the less experienced Hierro flied to Russia to prevent one of the tournament's favorites from descending further into crisis.
Hierro is revered for his playing days when he was one of the biggest names in world soccer, with a reputation as one of the toughest midfielders in Europe and a prolific goal scorer.
Born in Velez-Malaga on the southern mediterranean coast of Spain, he had a very brief spell with neighboring CD Malaga in his youth, where he was told he was not good enough for the sport, which prompted a return home. He eventually made his La Liga debuts with Real Valladolid, being bought by Real Madrid in the 1989 summer after two solid seasons.
Equally at ease as a central defender, sweeper or defensive midfielder, he had the ability, at his peak, to combine solid defensive play with a near-unlimited passing range and surprising goalscoring talent, which made him one of the world's most sought-after players.
He is known for his spells with Real Madrid and Spain, appearing in more than 500 official games with the former and representing the latter on 89 occasions, while appearing in four World Cups and two European Championships.
He is best known for his time at Real Madrid between 1989 and 2003, where he won five La Liga titles — as well as that hat-trick of European Cups, ending a 32-year drought for the latter.
During that time he was also a mainstay in Spain's national side, appointed captain in 1998 and becoming their all-time top goalscorer, though he now sits fifth on that list.
English fans may remember him best for his penalty miss in the quarterfinal shootout at the 1996 European Championships, and for his time at Bolton Wanderers in the 2004/2005 season.
Despite making only 37 appearances under then-manager Sam Allardyce, Hierro still found a place in the top 10 greatest players to represent the club in a poll run for fans in 2017.
After retiring in 2005, Hierro was presented as sporting director for the Royal Spanish Football Federation (RFEF) two years later, and oversaw the best part of the national side's most successful period in history as they won the 2008 European Championship and the 2010 World Cup.
After a short but successful stint as Malaga's director of soccer, Hierro spent a year as assistant manager at Real Madrid during Ancelotti's final season at the club.
His only previous experience as head coach comes from a season with Spanish second-tier side Real Oviedo in 2017, when he narrowly missed out on promotion.
Now, following a second stint as sporting director of the RFEF, Hierro is in Russia, entrusted with restoring cohesion after Lopetegui's sacking caused discontent amongst the squad.
Sergio Ramos is reported to have led an intervention demanding that Lopetegui, unbeaten in 20 games as coach, winning 14 and drawing six, must stay.
The appointment of a player from one of Real Madrid's most successful periods ever may help calm the Spain captain down.
The most dramatic 24 hours in Spanish soccer has divided opinion among many fans and pundits, and even reportedly among La Roja's squad in Russia for the tournament.
But Hierro avoided getting into the rights and wrongs of how he has ended up in the job in such dramatic fashion and told his presentation news conference that he was only interested in looking forward and maintaining the good work which had been done to this point.
"You cannot touch in two days what has been done in many years of work," said Hierro. "We know the first game is close, and we must be intelligent and stick to what was being done before. There's not time to change anything anyway.
"They are fantastic players and with Julen they have been preparing this game for months. We know we must compete — three games to continue in the World Cup. Neither Portugal, nor Iran, nor Morocco will gift us anything.
"I like to go step-by-step," he said. "After coaching Oviedo I knew I wanted to coach again. Then this happened with the federation and the circumstances made it possible. This is football, we never know what's going to happen."
Hierro didn't have much to say about how he likes his teams to play, but he hinted he will prioritize ball possession.
Asked if he felt betrayed by his former teammate and colleague Lopetegui, Hierro said there was no point in going over what had just happened when the tournament was right on top of them.
"The president has given his judgment on what happened, and we must be positive," he said. "Our opinions about what has happened are worth nothing now. We must turn the page, think about what we represent: Spanish soccer. I have a very clear conscience, and from there we take on the challenge we have in front of us.
"I spoke with [Lopetegui]; he called me now to say goodbye. We must change the chip now, forget what has happened.
"Tonight we train, tomorrow we fly to Sochi and tomorrow train in the stadium there," he said Wednesday. "Our objective is to fight for a World Cup, we have been two years preparing for this. We must show maturity in this moment. It is not about understanding what has happened, but dealing with the reality."
The squad of players, which sailed through qualifying and remain one of the pre-tournament favorites, remained fully committed to the cause, Hierro said.
"If I was not convinced we could have a good World Cup I would not be here," he said. "They are good lads, good sports-people. I spoke to the players, the staff, everyone. Yesterday was one speech, today another. I told them we have an exciting challenge in front of us, and we cannot let this affect our focus. The feedback has been fantastic, that is all I can tell you."
Hierro said he believes players are used to coaches coming and going. "I knew at least 90 percent of them from before. Nobody gifts you anything at a World Cup, one bad game sends you home, we all know the responsibility we have," he said.
"I would like my team to play well, to compete very well, with quality, possession play, score two or three goals more than the rivals," he said. "That would be good."
(SD-Agencies)