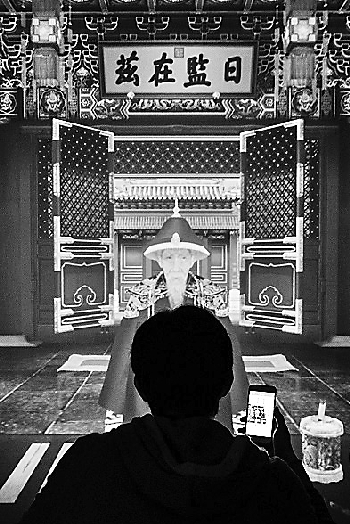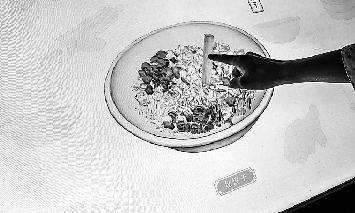 Of the more than 1.86 million pieces of art and cultural relics in the collection of the Palace Museum in Beijing, just 1 percent are displayed at exhibitions. In recent years, the museum has put lots of efforts into creating new digital experiences for visitors.
Now Shenzhen visitors will have fun at the exhibition "Discovering the Hall of Mental Cultivation" at Artron Art Center.
The Hall of Mental Cultivation, which witnessed the life and rule of eight Qing Dynasty (1644-1911) emperors, has been closed for conservation since 2015. Before that, the palatial courtyard with its installations depicting the time period had been one of the most popular areas for visitors among the Forbidden City's architecture. A cozy study in the hall is a well-known alcove and has been kept as it was, which was the place at which Emperor Qianlong kept a collection of calligraphy by Wang Xizhi, Wang Xianzhi and Wang Xun, granting the place its name the Hall of the Three Rarities.
While the hall remains closed to the public in reality, visitors can now explore it via the digital experience at Artron. In addition to architecture, the exhibition also features digital renderings of ceramics, glassware, gold and silver articles, jade, bronzes, sculpture, paintings and calligraphy. Through the interactive displays, visitors are able to learn about the creation, design, and use of the artwork in a fun and exciting way.
A wall of touch screens, called the Digital Cabinet of Curiosities, provides 360-degree photos of such treasures as a bronze jar from the early Warring States (475-221 B.C.) and a delicate blue and white porcelain vase from the Qing Dynasty. Visitors can zoom in on a piece, turn it around, or even open the lid and look inside it. They can also scan the QR code with their smartphone and save the image, complete with a one-line introduction in Chinese and English, to their phone.
Donning VIVE headgear, visitors can roam about the emperor's residence, exploring the Hall of the Three Rarities and "converse" with "court ministers."
In one of the AI features, visitors can chat with one of the "emperor's old ministers," who will give them eloquent replies in classical Chinese. Being told "I've gained weight," the "old minister" would reply, "If a superior man is not 'heavy,' no one will respect him." This is a quote from the teachings of Confucius. The Chinese character for "heavy" also means "serious."
Dates: Until July 10
Hours: 9 a.m.-5:30 p.m., closed Mondays
Tickets: 200 yuan
Venue: Artron Art Center, 19 Shenyun Road, Nanshan District (南山区深云路19号雅昌艺术中心)
Metro: Line 2 to Qiaocheng North Station (侨城北站), Exit D(SD News)