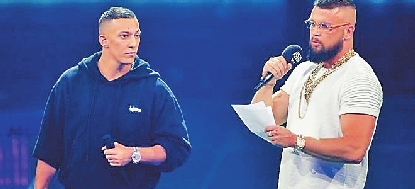 TWO German rappers will not be prosecuted after an outcry over lyrics about Auschwitz and the Holocaust.
Critics attacked Kollegah and Farid Bang for comparing their muscular bodies with those of Auschwitz inmates, and suggesting a new Holocaust.
But prosecutors said artistic freedom was guaranteed by the constitution.
The gangsta rap lyrics, while offensive, did not amount to Holocaust denial or inciting violence, they said.
Düsseldorf prosecutor's office spokesman Ralf Herrenbrück told German media that while the genre might be vulgar, misogynistic and homophobic, it would not be possible to bring charges.
The controversy surrounding the duo centers on two lines in their latest album "JBG3" ("Young, Brutal, Good Looking 3").
One track includes the words: "My body is more defined than those of Auschwitz inmates."
Another has the lyric: "I'm doing another Holocaust, coming with the Molotov."
The decision by Germany's music industry (BVMI) to hand the rappers the Echo prize in the hip-hop/urban category led to immediate condemnation from artists across the country.
(SD-Agencies)