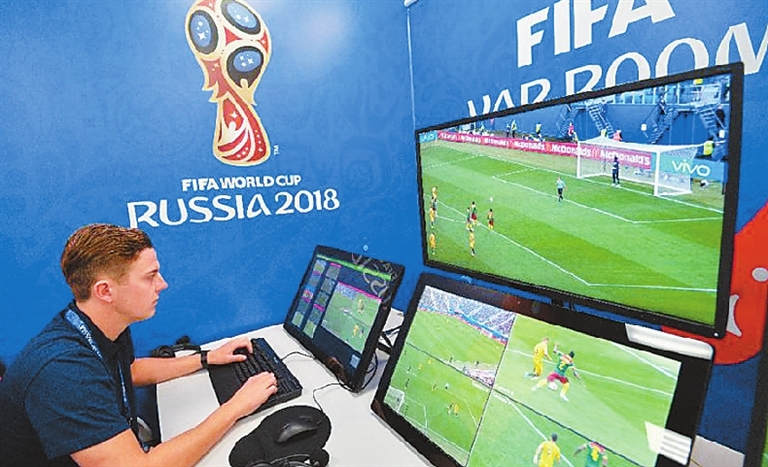 俄罗斯世界杯首次启用视频助理裁判
The Video Assistant Referee (VAR) system was used for the first time in World Cup history on Saturday, when France were awarded a penalty kick* against Australia.
Antoine Griezmann went down after a tackle* in the penalty box* in the second half of the Group C fixture. Referee Andres Cunha from Uruguay did not award a spot kick* but after viewing the VAR footage, ruled it was a penalty and Griezmann gave France a 1-0 lead. Minutes later Australia drew level* through a spot kick of their own although it was awarded by the referee, with Mile Jedinak coolly beating Hugo Lloris.
The VAR has been used to varying degrees of success in Serie A* and the German Bundesliga*, while FIFA* used the system at the Confederations Cup* in Russia last year.
FIFA director of referees Massimo Busacca admits the system has been rushed in for the World Cup, but insists officials are ready and that VAR will help referees make better decisions in Russia.
What exactly is VAR?
The VAR is a football assistant referee who reviews decisions made by the head referee with the use of video footage and a headset for communication. The VAR will have three assistants for the game, and will advise the on-field referee when requested or after key plays. A match referee will either receive updates through his earpiece, or can signal for a VAR review by drawing a TV-shaped rectangle gesture with his hands. The on-field referee will also have a pitch-side monitor* that he can use to watch replays, if necessary.
What can be reviewed?
• Goals
Replay will be used to determine if a goal should stand, or if there is a violation* during the buildup.
• Penalties
Replay will determine if a penalty call was correct before the kick is taken. Officials can also check if a foul* occurred inside or outside the penalty area.
• Red cards
In the event that a foul is committed that is deemed worthy of a red card, replay can be used to evaluate* whether the player deserves to be sent off, or should only receive a yellow card.
• Identity
If it isn't clear which player should receive a red or yellow card, VAR will be used to determine the correct player.
Can players ask for VAR reviews?
No! If a player is caught making the TV-shaped rectangle gesture during a game, he will receive a yellow card.(SD-Agencies)