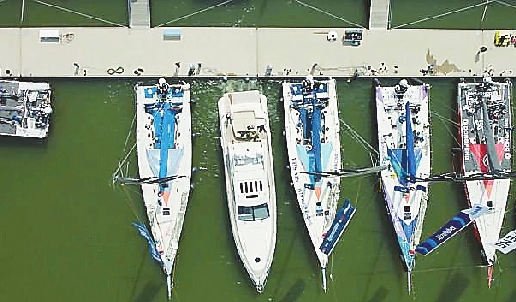 沃尔沃展示游艇自动停靠技术
The self-driving revolution has now taken to the seas after Volvo has revealed a yacht capable of docking itself.
Volvo Penta gave a live demonstration of its new self-docking yacht at the Gothenburg, Sweden stopover of Volvo Ocean race on Sunday. The vehicle parked itself into the tightest of spaces between two of the Volvo Ocean Race 65 racing yachts.
"Docking is one of the most challenging boat handling maneuvers, getting it wrong can be embarrassing, expensive and precarious*," said Bjorn Ingemanson, president of Volvo Penta.
The Inboard Performance System (IPS) is a complete and integrated* propulsion* system that enables secure, automated dock departures, according to the company.
"Our IPS system has already taken great strides in making docking easier, and this new self-docking feature takes that process one important stage further," said Ingemanson.
"Its sensors and onboard computers react in milliseconds* to changing wind and sea conditions, constantly making micro adjustments in power and steering angle of the IPS drive to keep the boat on its intended course into a safe berth," he continued.
"If necessary, the docking process can be paused, and the system will hold the boat stationary* in the water. Even in changing sea conditions it can make the sea appear to stand still," Ingemanson said.
Eventually, the company hopes to employ the technology in harbors and marinas*, allowing IPS-equipped boats to take advantage of self-docking.
The company hopes to launch the technology by 2020.(SD-Agencies)