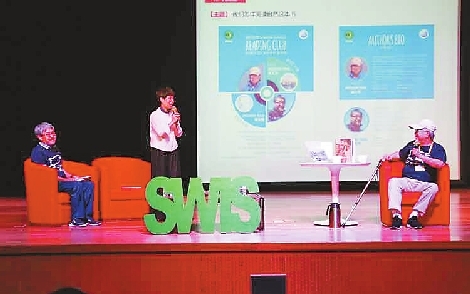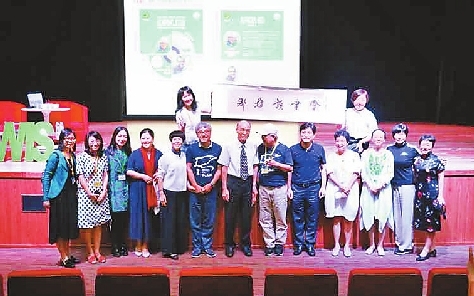 Yang Mei
yangmei_szdaily@163.com
Shenwai International School (SWIS) library joined hands with Shenzhen Countryside Reading Club and hosted a book-sharing event themed "Nature" on June 14, aiming to encourage students to spend more time in nature instead of indulging in computer games during the upcoming summer vacation.
The event was also the 14th edition of Shenzhen Countryside Reading Club's book-sharing activity.
Revolving around the theme "Nature," invited guests Pan Wenshi and Nan Zhaoxu shared with SWIS students and parents their outdoor stories and their most recent findings and research.
Pan is a leading authority in the field of Chinese biology and zoology. He has been awarded many medals and honors both domestically and overseas, including the famous Paul Getty Award by the World Wildlife Foundation in 1999.
Nan is a well-known publisher and columnist in Shenzhen. He advocates observing, recording and protecting the living environment. He created an award for recognizing the best books on natural subjects and initiated the world's first biodiversity photography competition.
At the event, Pan first shared three of his own stories that took place during his field research in the wilderness to educate students on the importance of properly co-existing with Mother Nature and following the laws of nature.
The 81-year-old professor told students to respect the voice of nature by illustrating a story about him searching for one of his postgraduates who lost his way in Qinling Mountains while looking for new trails of pandas.
As soon as Pan got the news that his student had lost, he carried a gun and organized 20 more locals to search for him. Half-way through the search, they made a bonfire and Pan fired a gun every 15 minutes to scare away any beast that could harm his student.
"While we were gathering around the bonfire, we noticed two wolves were near us and howled at us," Pan said mimicking the howling. "Then we realized that the wolves were sending us signals about the whereabouts of my student."
Pan then told students to remain alert in nature should you find yourself in an emergency situation. In 1988, Pan found a footprint of 13 to 14 centimeters in length which belonged to some large feline animals on a low-lying land in Guangxi Zhuang Autonomous Region. He was very excited and took a picture of it immediately. However, he was alone and soon found the surroundings became so quiet that he could only hear his heartbeat. To embolden himself he started to shout. To his surprise, there were five male monkeys roaring with him, which he believed distracted the animals and therefore pacified him. "Nature has the power to calm you down, give you strength and inspire you to start anew," Pan said.
During his 22 years living with and studying the white-headed langur in Chongzuo, Guangxi Zhuang Autonomous Region, Pan found that the "grandmother" monkey looks after her "grandchildren" for her daughter, and the "sister" takes care of her injured "young brother." So Pan reached a conclusion that relationships among animals are based on mutual cooperation and assistance and animals are also capable of feeling great love, affection and trust for each other.
Nan gave a lecture on protecting biodiversity in Shenzhen revolving around his book "Natural Notes of Crosswaters." He played a video clip which records the living habits of dozens of creatures. According to Nan, Guangdong is a region with the richest biodiversity in the Northern Hemisphere, yet it is also a region where a lot of illegal wildlife poaching and trading takes place.
He called on students to care for biodiversity and stop illegal activities. He also promised that he will continue to devote himself to protecting biodiversity in Shenzhen and Guangdong Province.