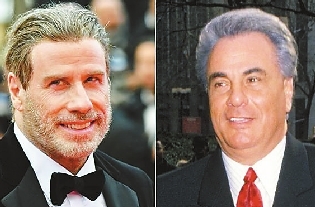 约翰·特拉沃塔扮演的黑帮头目约翰·高蒂自传电影遭差评
John Travolta's troubled biopic of New York crime boss John Gotti has finally reached cinemas, and the critics have only one thing to say: forget about it.
One reviewer called it the "worst mob movie of all time," while another said it was "a dismal* mess."
The reviews are so damning that "Gotti" has achieved the rare distinction of getting a 0 percent rating on Rotten Tomatoes.
Two previous Travolta films — "Staying Alive" and "Look Who's Talking Now" — are among those to have the same score.
Stacy Keach and Travolta's wife, Kelly Preston, also have roles in "Gotti," which has yet to have a U.K. release date.
Numerous other actors, among them Al Pacino, Joe Pesci and Lindsay Lohan, were also attached to the film during its seven-year gestation.
Directed by former "Entourage" star Kevin Connolly, the film charts John Gotti's rise from mob enforcer to head of the Gambino crime family.
Known as both "The Dapper Don" and "The Teflon Don," Gotti was eventually convicted of murder and extortion* and died in prison in 2002.
Speaking at this year's Cannes Film Festival, Travolta admitted making the film had been "a challenge" despite his attachment to the project.
"You put my name with the Gotti name and it reeks of a story that should be told," he told reporters. "But Hollywood can be odd*.
"There was a lot of stress in getting 'Gotti' made," he continued. "But I knew if we did it well, we could pull it off."
The Hollywood Reporter begs to differ, describing the film as "poorly written, devoid* of tension, ridiculous in spots and just plain dull* in others." (SD-Agencies)