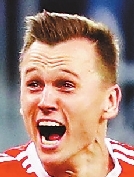 DENIS CHERYSHEV had been the odd man out in Russia's team. Now he's the breakout star, tied with Cristiano Ronaldo as the World Cup's top scorer.
Raised in Spain at the Real Madrid academy, he has used his slick technique and tactical awareness to score three goals as Russia won its first two games at its home World Cup.
Not bad for a man who, before the tournament, had played only 33 minutes under Russia's current coach and hadn't started an international game since 2015. "Thank God that I could score three goals in two games, but my aim is just to help the team," said Cheryshev, who plays as a winger for Villarreal.
Cheryshev is one of only two players in Russia's squad who play for foreign clubs — the other is third-choice goalkeeper Vladimir Gabulov — and for a long time, it seemed like national team coaches overlooked him. He grew up outside the Russian system at Real Madrid, where his father was a youth coach.
(SD-Agencies)