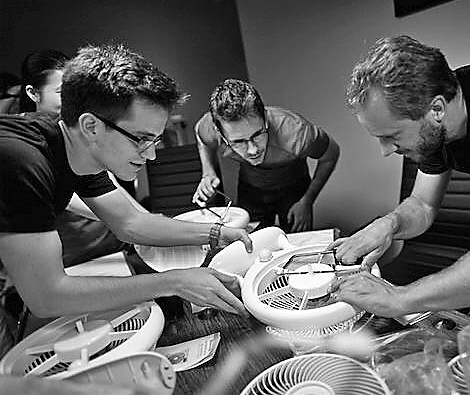 While environmental issues have become a big concern for everyone, we need to figure out how we can solve our daily environmental problems by our own effort. It's said that there's at least one air filter in every household in Beijing.
However, the air filters that are available on the market are not cheap. What are the alternatives?
In 2013, Thomas Talhelm was a Ph.D. student conducting research in Beijing. He found most purifiers were overpriced, so he started building and testing low-cost purifiers in his bedroom.
Then he started Smart Air, a social enterprise dedicated to fighting insane profit-margins in the purifier industry and instead making clean air affordable for all.
If you are interested in learning about how to make a smart air filter, you can join the Smart Air Workshop on Sunday at x.factory to create your own.
Yeye from Hainan, who is in charge of Smart Air's educational outreach and DIY workshops, and Rachel, a member at x.factory, will instruct you to DIY air filters. Assembly is quick and easy, and x.factory will provide all the tools, fans and HEPAs (high efficiency particulate air filters). In about 15 minutes, you will have an air purifier to take home.
Joining the event is free of charge but the material fee for an air purifier is 200 yuan.
Time: 4-6 p.m., June 24
Venue: x.factory, Design Commune, Vanke Cloud City, Dashi Road 2, Nanshan District (南山区打石二路万科云设计公社x.factory)
Metro: Line 5 to Liuxiandong Station (留仙洞站), Exit A(SD News)