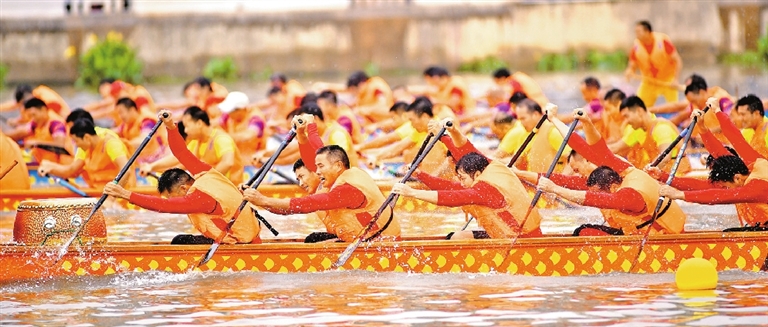 BAO'AN started an overhaul in the areas along the Maozhou River on June 15 to eliminate the source of contamination for the river.
The 3.334-billion-yuan (US$530 million) project will build a 2,594-kilometer network of sewage pipelines in four subdistricts by year-end, covering a total of 112.65 square kilometers, according to a launch ceremony attended by Shenzhen Vice Mayor Huang Min.
Earlier on June 5, World Environment Day, Guangdong's provincial environmental protection authorities launched activities to raise people's awareness and will to act for protection of the environment in Bao'an. The curtain raised on the event with the annual Maozhou River Dragon Boat Race in the Maozhou River at Yanluo Wetland Park in Yanluo Subdistrict, which attracted 12 teams from around China.
At the inauguration ceremony, Shenzhen Party chief Wang Weizhong poured a bottle of water from the Maozhou River down a sink, which showed people that the water of the river, which used to be heavily polluted, is becoming clearer following treatment.
The 41.6-kilometer Maozhou River, Shenzhen's longest river, is said to be one of the most polluted rivers in the Pearl River Delta Region, and ranks at the bottom of a national water quality scale.
The river runs through Bao'an District and Guangming New Area in Shenzhen, as well as Chang'an Township in Dongguan, where a growing number of labor-intensive industries and migrant workers are contributing to water quality degradation. The river's drainage basin is home to about 3 million people.
Results of water quality monitoring by the Guangdong Environmental Monitoring Center in 2013 indicated that the water in the river's trunk and 15 main tributaries was severely polluted with ammonia and nitrogen at 23 times the permitted amounts.
The abundance of chemicals in the river was due to the domestic sewage and aquaculture wastewater that was directly discharged into the river.
Bao'an launched a 16.09-billion- yuan comprehensive treatment project on the Maozhou River basin in February 2016, a landmark river pollution treatment project in the country. (SD News)