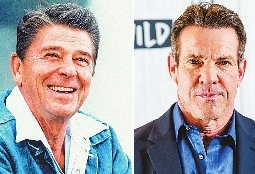 DENNIS QUAID has inked a deal to play Ronald Reagan in a film expected to begin shooting in the fall.
The long-in-the-works feature film will explore Reagan's life from boyhood through his presidency of both the United States and the Screen Actors Guild. He will be played as a young man by David Henrie, best known for his role as teen Justin Russo in the kid's show "Wizards of Waverly Place" and as an older adult by Quaid.
The film is also expected to explore Reagan's time as governor of California, his role in the destruction of the Berlin Wall and his final days dealing with Alzheimer's disease. It will also delve a bit into John Hinckley Jr., whose obsession with actress Jodie Foster led to his attempted assassination of the Republican president in 1981.
Jon Voight also has a role in the film, which is dubbed "Reagan."
Joseph said that he has met with 50 of Reagan's friends, confidantes and cabinet members, including his pastor and the surgeon who saved his life after Hinckley Jr. shot him, in order to accurately portray the details of his life. "Dennis was always our first choice. He's one of the great actors of our time," Joseph said.
"Reagan was a fascinating and multifaceted human being and this movie captures his humanity," Quaid said. "We're making a movie for Republicans and Democrats alike since Reagan transcends politics. I can't wait to get started."
The US$21 million film will be directed by Sean McNamara, who recently directed "The Miracle Season," an inspirational sports drama starring Helen Hunt. (SD-Agencies)