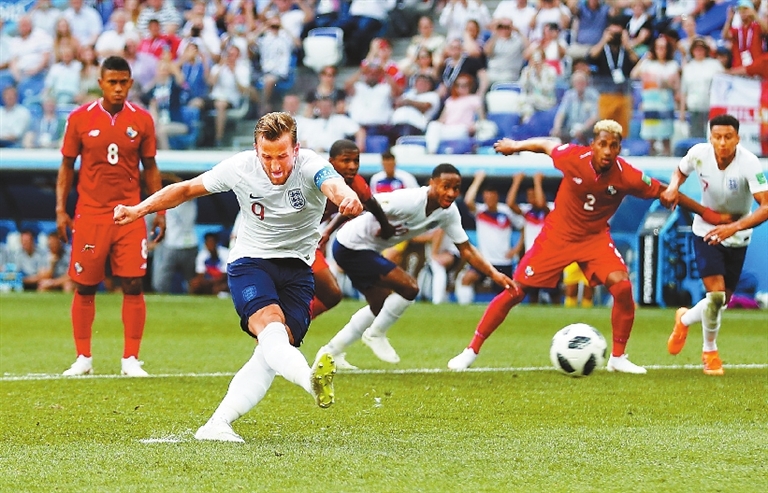 HARRY KANE struck a hat trick as England thrashed Panama 6-1 Sunday to ease into the World Cup last 16 alongside group rivals Belgium.
Kane now has five goals in Russia, leapfrogging Cristiano Ronaldo and Romelu Lukaku in the race for the Golden Boot as the Central Americans were sent packing along with Tunisia.
Belgium and England — which meet in Kaliningrad on Thursday to battle it out for top spot in Group G — both have six points after two games and are level on goal difference and goals scored.
England players recorded their biggest-ever victory at a World Cup despite the sapping heat in Nizhny Novogrod, playing with youthful zest and imagination against their disappointing opponents.
Two penalties from Kane and two goals from John Stones, plus an impressive strike from Jesse Lingard, gave England an unassailable 5-0 lead at half-time.
Kane completed his hat trick in the 62nd minute and coach Gareth Southgate had the luxury of substituting his captain with tougher challenges ahead.
Felipe Baloy, 37, scored the first-ever goal for Panama at a World Cup to narrow the gap but it could not mask the vast gulf in quality between the two sides.
"I'm very proud. Not many players get to score a hat trick in the World Cup," said Kane, who is only the third England player to score three goals in a World Cup match after Geoff Hurst and Gary Lineker.
"We have to enjoy this. It's not every day we get to go through after two games."
Southgate said he was pleased with his side's ruthlessness.
"It was a different type of win to the other day (against Tunisia)," he said. "Then we had to go right to the wire and show qualities that are going to be really important to our resilience and sticking to our principles of play."
Belgium hammered Tunisia 5-2 Saturday, with two goals from both Lukaku and Eden Hazard.
(SD-Agencies)