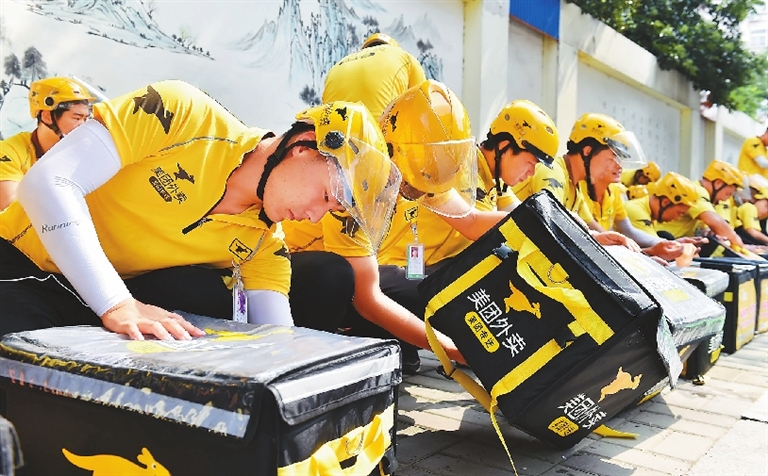 MEITUAN-DIANPING, an online food delivery-to-ticketing services platform, filed for a Hong Kong initial public offering (IPO) yesterday, an offering that aims to raise more than US$4 billion, sources with knowledge of the plans said.
The firm, backed by gaming and social media firm Tencent Holdings Ltd., did not detail the amount of funds targeted or a time frame. Meituan-Dianping is likely to list in October, said the sources.
Meituan-Dianping was formed in 2015 from the US$15 billion merger of Meituan, likened to U.S. discounting platform Groupon Inc., and Dianping, akin to U.S. online review firm Yelp Inc.
The company competes with Ele.me, backed by e-commerce firm Alibaba Group Holding Ltd., as well as market entrants such as ride-hailing app operator Didi Chuxing.
The company booked 33.9 billion yuan (US$5.2 billion) in revenue in fiscal 2017, sharply higher than the 12.99 billion yuan made in the prior year. It made a 2.85 billion yuan adjusted net loss last year, smaller than losses of 5.35 billion yuan in 2016 and 5.91 billion yuan in 2015.
The filing comes as investors ready for a series of mainland tech-related IPOs. Smartphone maker Xiaomi Corp. on Thursday launched a blockbuster Hong Kong IPO, aiming to raise up to US$6.1 billion in the biggest tech-related listing worldwide since Alibaba's record-breaking US$25 billion in 2014.
China Renaissance Group, a tech-focused investment bank led by one of the country's most famed rainmakers, is also planning a Hong Kong IPO, keen to raise as much as US$800 million, people with direct knowledge of the matter said.
Meituan-Dianping has mandated Bank of America Merrill Lynch, Goldman Sachs Group Inc. and Morgan Stanley to jointly sponsor its IPO.
(SD-Agencies)