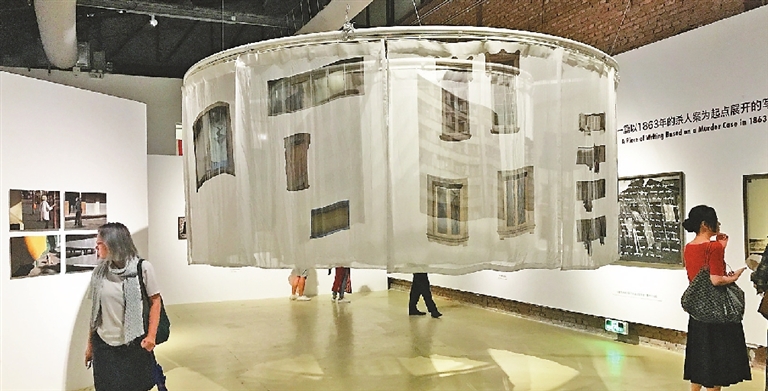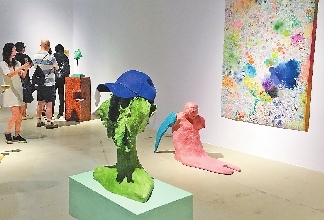 Cao Zhen
caozhen0806@126.com
TEN Chinese contemporary artists are exhibiting their short stories along with paintings, sculptures, videos and photos at the exhibition "Fiction Art" at OCAT Shenzhen.
The short fictions are all in Chinese, and some are more like casual notes or poems than stories. According to curators Fang Lihua, Li Rongwei and Gong Linlin, in the contemporary art context, fiction is an artistic phenomenon. As a practice of contemporary art, fiction writing reduces the visual aspect to the minimum and invites viewers to use their own imagination to construct a visual world. Meanwhile, fiction comes together with other forms of expression to construct an artwork mixing sound, vision and imagination.
The 10 artists, Cao Shu, Chen Tong, Duan Jianyu, Feng Feng, Jiang Zhi, Jin Shan, Pu Yingwei, Qin Jin, Shi Zhenhao and Yang Yuanyuan, all have experiences of writing fiction and have brought fiction into their artistic practice. Most of the works at the exhibition are new and some contain further developments of earlier ideas, including new constructs and expressions.
"I have been writing for a long time, and I'm always thinking about new ways to expand the boundaries of my artwork. Even if my writing is a wasted effort, I hope this is more than just a simple story," said Duan, whose "Secret Garden" is being exhibited. The work, consisting of a short story, sculptures, photos and paintings, centers on a group of people who have their own beliefs about the world and are striving to turn the tide.
Some other artists believe that individuals' experiences and memories are evidence of the world's existence and they weave fiction and reality into their writings.
"Admiring fiction art at the exhibition requires a certain level of patience from the viewers, the patience to immerse themselves in the text, and to view with imagination," said curators. "In the days of rapid consumption, fiction art demands a slow pace. If you ask what fiction art is for, beyond the new possibilities explored by the artists, it provides us inspiration and responses to various questions."
Dates: Until Aug. 12
Hours: 10 a.m.-5:30 p.m., closed Mondays
Venue: OCAT Shenzhen, South Area, OCT-LOFT, Nanshan District (南山区华侨城创意文化园南区OCAT深圳馆)
Metro: Line 1 to Qiaocheng East Station (侨城东站), Exit A