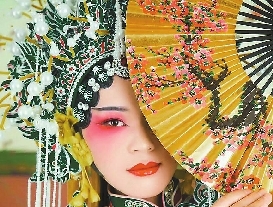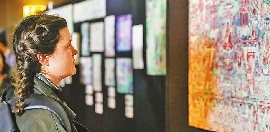 Pen+Palette
FROM Aug. 31 until September next year, National Gallery Singapore will present "Wu Guanzhong: Expressions of Pen+Palette" to commemorate the centennial year of the artist's birth next year.
An innovator in fusing Chinese ink with Western modernism, and a significant painter of the 20th century, Wu (1919-2010) is also known as a prolific writer on art criticism and creativity. The exhibition explores the relationship between his artistic creations and literary writing by bringing together major works from Singapore's national collection and a key Southeast Asian private collection.
Embroidery piece for
stamp series
AS one of China's intangible cultural heritages, an embroidery piece made by Duan Pengjiang was selected for the Top Hundred Chinese Artists stamp series and published in countries like the United States, France and Holland.
Jackie Chan, He Jiaying, Tang Guoqiang, Jiang Kun and Chen Peiqiu were also involved.
Duan, from Chuxiong in Yunnan Province, said, "I believe ethnic culture can be presented in the embroidery we use daily. For example, clothing, wallets and decorative pieces. And I hope more and more people will learn and inherit embroidery skills through my teaching."
China Week in New Zealand features Dunhuang
THE just-concluded China Week: Inheritance and Innovation exhibition showed cultural products from Dunhuang — home to the famed Mogao Grottoes — in Northwest China's Gansu Province, at the Wellington Central Library in New Zealand.
The weeklong event was highlighted by an exhibition titled "Let's Dunhuang — Cultural Experience From Dunhuang With Innovation and the Workshop Echoes of Dunhuang," where visitors not only learned about the history and culture of Dunhuang via displays of photos and videos, but were also able to try their hands at making lipstick in a Dunhuang-themed shade of orange.(SD-Agencies)