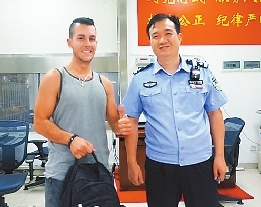 A CANADIAN tourist expressed his gratitude to the border police for their help in finding his lost backpack at Huanggang Checkpoint on June 21, the Shenzhen Special Zone Daily reported.
"I never thought I would find it. There is a camera with some photos I took when I traveled around China in the backpack. They are very important to me. I am grateful for the police who helped me find my bag," said the tourist, who wasn't identified.
On June 20, after finishing his trip around China, the tourist took a business vehicle to cross border from Huanggang Checkpoint to Hong Kong. Unfortunately, he left his backpack in the car when he got off for an inspection at the checkpoint. He didn't realize that the backpack was lost until he arrived in Hong Kong.
A border police officer at Huanggang Checkpoint found the backpack and looked for its owner but got no response. The officer assumed that the backpack might have fallen from a vehicle trunk during an inspection, so he reported it as a lost item to his supervisor.
Later officers at the checkpoint checked the backpack and only found a wallet, a camera and some personal belongings. However, they couldn't get in touch with the owner because no personal information was found in the backpack. The police accounted for all the backpack's contents and waited for someone to claim it.
On the morning of June 21, the tourist went back to Huanggang Checkpoint for his backpack with his Chinese friends. After verification, police in Huangang Checkpoint confirmed that the Canadian tourist was the owner and gave the backpack back to him. (Cui Chenxin)