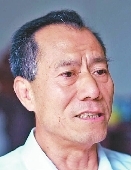 Zhang Qian
zhqcindy@163.com
IN just a few years' time, nearly every shopping mall around Shenzhen has a PurCotton store that sells clothes, home-wear, tissues and other daily consumable products made of 100-percent cotton.
Owing to the good quality and soft texture, PurCotton under the Winner Medical Co. Ltd. (Winner Medical) has won a large number of consumers' hearts.
Winner Medical is one of the first companies to maintain full product lines in the medical disposable market and registered with the Food and Drug Administration (FDA) in the United States. Its products conform to the pharmacopoeias of Europe, the United States, Japan and China, and are quality benchmarks of the medical disposable industry.
Li Jianquan, founder and chairman of Winner Medical, talked with the Shenzhen Daily last week at the company's headquarters in Longhua District about how the company has grown from a small-sized firm to a leading manufacturer of single-used wound care and surgical products in China.
With a background in the textile industry in the first few years of his career, Li has a passion for promoting products made of cotton. "Most of the clothes are made of chemical fiber with a lot of chemical molecules that do no benefit to human health and the environment, but cotton is different because products made of pure cotton are very safe to people and nature," said Li.
He said that planting cotton can also help preserve water and soil, contributing to the sustainable development. For Li and his enterprise, the biggest goal is to promote cotton products at both industrial and consumer levels.
Winner Medical not only enjoys a good reputation in China, but is also a large supplier of medical products overseas. Winner Medical chose Japan as its first candidate market when exploring its overseas market.
"Japanese consumers usually demand products with the best quality, and once they recognize your services and products, they remain loyal customers," said Li. He recalled that in the first few years, several Japanese partners had helped his company expand the Japanese markets, and now Winner Medical is a few times larger than its original partners.
With reputation and recognition gained in the Japanese markets, Winner Medical successfully expanded its business to Europe and the United States in the following years.
Working in a foreign trade company before establishing Winner Medical in the 1990s, Li knew that many Chinese products exported overseas were only winning a small portion of the markets with cheap labor. "When I founded my own company, I wanted Chinese products exported overseas to get rid of the stereotype of having rubbish quality," said Li.
Winner Medical imports cotton produced in Australia, the United States and China's Xinjiang. In particular, 70 to 80 percent of the cotton used to make medical and consumer products are cultivated in Australia, where suppliers follow strict procedures to ensure the cotton is well-preserved.
Though PurCotton has already become well-known among Chinese consumers, especially in big cities like Shenzhen, it is aiming for global markets.
"Currently, we have stores on multiple online cross-border shopping platforms and we receive considerable overseas orders. We will set up physical stores overseas in the near future," said Li.
"Winner Medical is working closely with some experts to do research on the genetic modification of cotton so that products made of cotton can be comfortable, safe and fashionable," said Li.