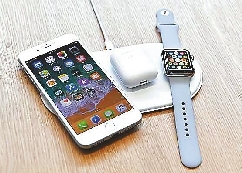 苹果无线充电座9月上市
Apple is expected to finally release its wireless charging accessory AirPower in September, likely alongside its new iPhone models, Bloomberg reported, citing sources close to the development.
Apple has struggled to make the charging mat because it's supposed to charge three different products at once — an iPhone, an Apple Watch and its wireless AirPods headphones.
Engineers have also been working to make sure the product doesn't overheat.
They've also been trying to navigate challenges associated with AirPower's complex circuitry*, which they hope will allow the user to charge a device no matter where you place a device on the pad.
To charge multiple devices at once, the mat has to be fitted with several charging components, each of which are different sizes and need to overlap across the mat — a task that has proven difficult.
Apple has also been working to resolve various bugs* associated with AirPower's firmware.
Apple has introduced wireless charging on a range of products, including the AirPods, Apple Watch and the iPhone. Ultimately, designers at the company want to remove most of the external ports and buttons on the iPhone, including the charger.
The firm considered removing the current charging system on the iPhone X, but they decided against it, as wireless charging is still slower than traditional charging. It would also raise the price of the already expensive iPhone X, which starts at US$999.
(SD-Agencies)