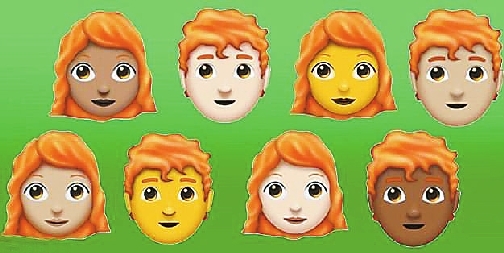 红发人士将拥有专属emoji表情
Male and female ginger-haired emoji with a range of skin tones are out as part of a set of 157 new characters launched by the Unicode Consortium.
The emoji 11.0 set will roll out to social media platforms as well as Apple, Google, Microsoft and Samsung smartphone users worldwide over the coming months.
The new characters join 2,666 other emoji already offered by the Consortium, though it may take some time before smartphone firms to add them to their software.
The upgrade sports a range of new hairstyles, including curly-hair, white-hair and baldness. Also included are hot and cold faces, as well as party, woozy and pleading faces.
The set features male and female superheros and supervillains, as well as emoji for activities such as softball, frisbee, sewing, chess and lacrosse. Animals lovers will enjoy the new llama*, raccoon, lobster, hippopotamus, parrot and kangaroo emoji.
The update also includes new skin tone options for the leg and foot emoji, as well as science-focused characters like a test-tube, lab coat and petri dish*.(SD-Agencies)