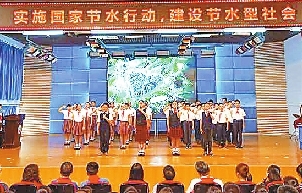 深圳启动2018青少年节水宣传活动
Zhang Qian
zhqcindy@163.com
With a program of student performances and stage plays, a campaign composed of a series of activities aimed to promote knowledge of conserving water resources among Shenzhen teenagers was initiated at Zhuyuan Primary School in Futian District on June 21.
This year's campaign was themed "Implementing national action for saving water, constructing a water-saving society." The highlights of the campaign this year are the publicity teams comprising of local students as well as the stage plays directed and performed by students themselves.
Student representatives from the primary school also delivered a report on rivers in Shenzhen at the launching ceremony last week. Publicity teams across the city had also carried out research on rivers in Shenzhen since the teams were consolidated. The student teams also provided their solutions for treating and protecting water resources from their own perspectives.
One group of students from the primary school put on a fashion show. The costumes they showcased were made of second-hand materials. The students and their parents recycled the materials and turned them into fashionable costumes to promote the idea of recycling.
Huang Zixuan, a student representative from Zhuyuan Primary School, together with other representatives from the publicity teams solemnly read a letter of appeal for all teenagers in Shenzhen to become practitioners of water resources preservation methods.
Before the inauguration ceremony ended, several scientists from a research lab gave a magic show that combined entertainment and scientific knowledge for students. The student publicity teams also showcased their research results on water resources in Shenzhen at an exhibiting area after the ceremony.
An array of activities will be organized at all schools in the city in the following months to further promote water-saving knowledge and awareness.