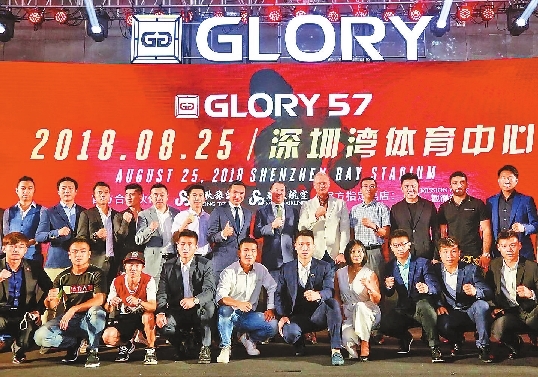 Windy Shao
windysjf@hotmail.com
GLORY, the world's premier kickboxing league, will stage its first major combat sports event in Shenzhen on Aug. 25, organizers said at a press conference Monday.
Sports and leisure company Mission Hills Group signed a strategic cooperation agreement with the stand-up combat league at the news conference.
"Globally, over a billion sport fans are attracted to GLORY kickboxing, I think it's another way to engage with different sporting interests and athletes to be involved," said Tenniel Chu, vice chairman of Mission Hills Group.
GLORY co-founder Scott Rudmann announced that Shenzhen's main event would be Sitthichai Sitsongpeenong of Thailand taking on Marat Grigorian of Belgium for a fourth time, once again for the GLORY Lightweight Championship.
Fans inside Shenzhen Bay Sports Center, site of GLORY 57 Shenzhen, will also witness a one-night qualification tournament, featuring eight of China's top lightweights all competing for a spot in the GLORY rankings.
"Guangdong has a profound martial arts tradition and we have lots of martial arts heroes in history. It's a milestone step that GLORY joins hands with Chinese martial arts," said Zhang Ping, an official from Nanshan District.
GLORY first entered China last year, staging GLORY 46 in Guangzhou.
GLORY 57 Shenzhen is part of the kickboxing league's five-city summer campaign, which also features events in New York, Denver, Chicago and Amsterdam.
GLORY is now a major player in the international market, with media rights deals in nearly every country, but inroads into China represents a huge step forward.
Rudmann has said in an earlier report: "The Chinese market for combat sports is going to be the largest market in the world. They have a billion people who have combat and martial arts in their DNA.
"The Chinese invented martial arts. It traveled from China and also Japan to the rest of the world. All this stuff we have now, the Brazilian jiu jitsu and everything else, are derivates of what was invented in China. The Chinese people grow up understanding this and they have martial arts heroes as part of their culture."
GLORY, formerly Glory World Series, is an international kickboxing promotion company founded in 2012. The company has its headquarters in Singapore and international offices in Denver, United States, and Amsterdam, the Netherlands.