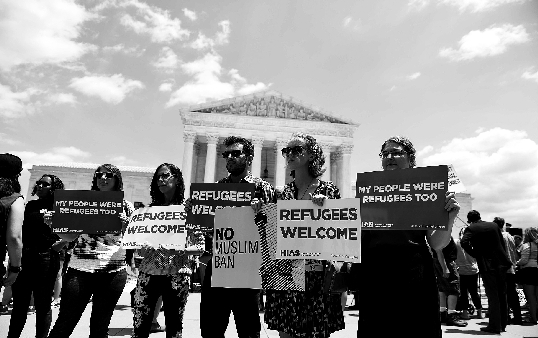 THE U.S. Supreme Court on Tuesday upheld President Donald Trump's controversial travel ban affecting several mostly Muslim countries, offering a limited endorsement of the president's executive authority on immigration in one of the hardest-fought battles of this term.
The 5-4 ruling marks the first major high court decision on a Trump administration policy. It upholds the selective travel restrictions, which critics called a discriminatory "Muslim ban" but the administration argued was needed for security reasons.
In a written statement, Trump called the ruling "a tremendous victory for the American People and the Constitution."
As critics continued to decry the policy as "xenophobic," Trump described the court decision as "a moment of profound vindication following months of hysterical commentary from the media and Democratic politicians who refuse to do what it takes to secure our border and our country."
At issue was whether the third and latest version of the administration's policies affecting visitors from five majority Muslim nations — known as travel ban 3.0 — discriminates on the basis of nationality and religion, in the government's issuance of immigrant visas.
Chief Justice John Roberts, who authored the conservative majority opinion, wrote that the order was "squarely within the scope of presidential authority" under federal law.
It was the first significant legal test so far of Trump's policies and power and could lead to a precedent-setting expansion on the limits of presidential authority, especially within the immigration context.
A coalition of groups in opposition called the order blatant religious discrimination, since the countries involved have mostly Muslim populations: Iran, Libya, Sudan, Syria and Yemen. Chad was recently removed from the list after the administration said that country had beefed up its information-sharing.
Meanwhile, Washington State Attorney General Bob Ferguson Tuesday formally filed a multi-state lawsuit against Trump's "family separation" immigration policy.
The legal action led by Ferguson and brought to the U.S. District Court for the Western District of Washington was joined by a coalition comprising the District of Columbia and 17 states, including California, Delaware, Illinois, Iowa, Massachusetts, Maryland, Minnesota, New Jersey, New Mexico, New York, North Carolina, Oregon, Pennsylvania, Rhode Island, Virginia, Vermont and Washington.(SD-Xinhua)