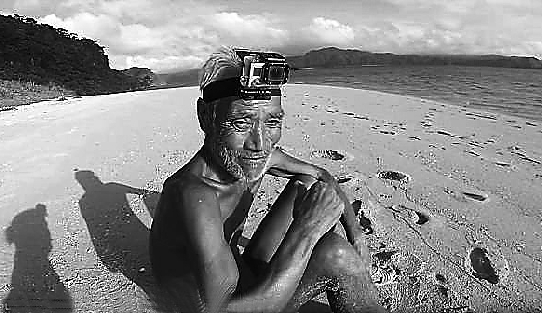 JAPANESE authorities denied a man his wish to die a castaway on an island he called home for three decades.
Masafumi Nagasaki was the only inhabitant of the kilometer-wide Sotobanari Island but was forced to return to civilization after being found unwell by police.
He lived in solitude since 1989 and became known as the "naked hermit" after being discovered by a traveler who writes about castaways.
Alvaro Cerezo told news.com.au Nagasaki was evicted after someone found him on the island looking "weak."
Police were called and he has been taken to live in a government house 60 kilometers away in Ishigaki City.
Cerezo added his health is OK and he "probably only had the flu" when he was found, remarking that Nagasaki's island life is "over" as he isn't allowed to return.
Nagasaki's story first came to light in 2012.
He shunned mainstream society in the early 1990s to set up base on the little island of Sotobanari where there is no running water.
The remote spot, which is just a kilometer wide, is in Japan's tropical Okinawa Prefecture and located closer to Taiwan than Tokyo.
The currents that surround the kidney-shaped island are so dangerous local fishermen rarely cast nets in the area.
Previously he worked in the entertainment industry before "retiring" from civilization.
"I don't do what society tells me, but I do follow the rules of the natural world. You can't beat nature so you just have to obey it completely," he said.
"That's what I learned when I came here, and that's probably why I get by so well."
He would travel to a nearby island using money sent from his family to get water and his staple food of rice cakes, which he would boil four or five times a day.
Water for bathing and shaving comes from rain caught in a system of battered cooking pots.
Just a year into his stay his clothes were washed away in a typhoon.
"Walking around naked doesn't really fit in with normal society, but here on the island it feels right, it is like a uniform."
He would spend each day laying out in the sun, maintaining his camp and trying to avoid getting insect bites.
The island was where he wanted his final resting place to be.
"Finding a place to die is an important thing to do, and I've decided here is the place for me," he said.
"It hadn't really occurred to me before how important it is to choose the place of your death, like whether it's in a hospital or at home with family by your side.
"But to die here, surrounded by nature — you just can't beat it, can you?" (SD-Agencies)