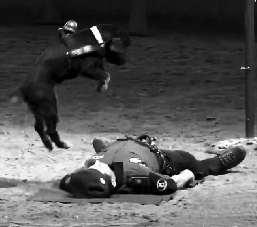 AN adorable dog wearing a flashing police light was caught on a video trying to "save the life of his trainer by performing CPR."
In the clip, filmed by the Madrid police, the police officer dramatically falls to the ground before lying down and staying perfectly still.
The tiny pooch, named Poncho, then runs over to his fallen comrade straight away and tries to wake him up by pushing his side.
When he doesn't move, the dog jumps up and down on his chest four times before placing his ear next to the police officer's mouth to listen for breathing.
After doing that, he goes back to jumping up and down before repeating the move once again.
The Madrid police uploaded the video to their Twitter feed with the caption, "'Heroic' performance of our #4pawedcompanion Poncho, who did not hesitate for a moment to 'save the life' of the agent, practicing #CPR in a masterful way."
The clip has gone viral on Twitter, racking up nearly 1.7 million views since being uploaded three days ago.
One commenter said, "That's so true. Noble selfless and always helping."
Another wrote, "What a smart dog! It is worth its weight in gold. Adorable and tender."
(SD-Agencies)