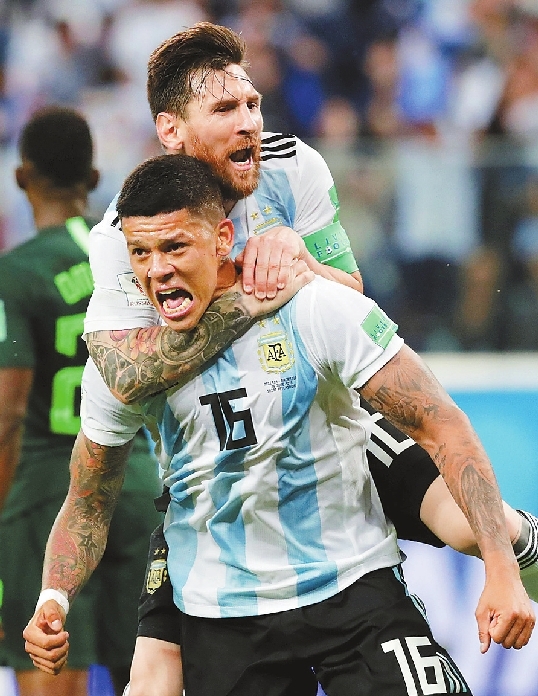 LIONEL MESSI finally scored a goal at this year's World Cup and sent Argentina to the round of 16.
Argentina staved off elimination with a 2-1 victory over Nigeria on Tuesday, getting a late goal from Marcos Rojo.
Messi's goal was his 65th for Argentina.
From a long pass over the defense by Ever Banega, Messi caressed the ball with his left thigh, took another touch with his left foot, and then delivered a smooth right-footed finish into the corner.
Messi fell to his knees and pointed his fingers upward in celebration.
"I knew that God is with us," Messi said, "and he wouldn't let us get eliminated."
Messi, who later hit the post off a free kick, and Banega controlled the game in the first half. Rojo finished it off in the second by cushioning a volley with his right foot into the bottom corner and ensuring Messi's quest for a first World Cup title continued.
Argentina will play France in the last 16 in Kazan on Saturday. If Argentines win and Portugal beats Uruguay on Saturday, Messi would face Cristiano Ronaldo in the quarterfinals.
Without that late goal from Rojo, the 31-year-old Messi might have retired from international soccer for a second time — and for good this time.
Instead, it was Messi who was at the center of the celebrations. His teammates formed a circle around him while striker Gonzalo Higuain cried nearby. Messi then clenched his fist as he turned toward the Argentina fans.
"He's above everybody else," Argentina coach Jorge Sampaoli said. "The most important thing for Leo is his human side. He cries. He suffers. He's happy when Argentina wins. I know him.
"Many people say Leo does not enjoy playing for Argentina, but I do not agree. He enjoys and suffers like all the other players and that makes him even bigger."
Before Rojo's goal, Nigeria had been only a few minutes from qualifying for the last 16 for the fourth time.
Javier Mascherano gave away a penalty with a pull on Leon Balogun at a 49th-minute corner. Victor Moses converted — and marked the goal with a somersault — to put Nigeria back in control of the race for second place in the group.
Argentina was facing finishing a World Cup without a win for the first time since 1934, but instead the team is headed to the knockout stage.
"This is Messi," Nigeria coach Gernot Rohr said with a shrug.
Minutes away from advancing to the knockout stage, Nigeria ended up third in the group — ahead of Iceland but a point behind Argentina.
Argentina has four days to prepare for its last 16 match against France. It is the first game of the knockout stage.
Messi joined Diego Maradona and Gabriel Batistuta as the only Argentina players to have scored in three different World Cups. He has also now scored as a teenager, in his 20s and in his 30s at a World Cup.
(SD-Agencies)