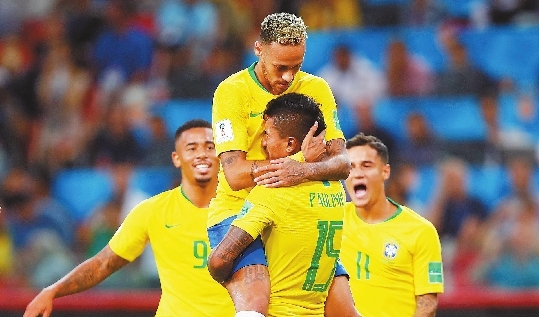 PAULINHO and Thiago Silva scored a goal each Wednesday to give five-time champion Brazil a 2-0 victory over Serbia and first place in their group.
Brazil struggled in its opening two matches, first held to a 1-1 draw and then needing late goals to win the other. But they controlled this one, and it was a big relief to coach Tite.
Paulinho gave his team the lead when he met a lofted ball from Philippe Coutinho in the 36th minute. The defensive midfielder let the ball bounce in front of him near the penalty spot and kicked his right leg in the air to tap it over the goalkeeper's fingertips. Silva later scored with a powerful header in the 68th from Neymar's corner.
Brazil finished first in Group E and will next face Mexico in the Round of 16 Monday in Samara. Serbia was eliminated, finishing third in the group behind Switzerland.
Both of Brazil's goals came when Serbia threatened to get back into the match.
The Serbs nearly scored in the 61st when Brazil goalkeeper Alisson pushed the ball into the path of forward Aleksandar Mitrovic, whose shot bounced off the keeper and was bound for goal before being cleared by Silva.
"In the second half we tried to play with more risk," Serbia coach Mladen Krstajic said. "We had chances to equalize, but we missed our chances."
For most of the first half, Brazil couldn't break through Serbia's compact back line. But Paulinho, the player that Tite calls his "secret weapon," lived up to his name by scoring the first goal at Spartak Stadium.
Four years ago, Paulinho was part of the Brazil team that was humiliated at home in a 7-1 drubbing by Germany in the semifinals. "A lot has changed in my life and my career," he said. "I have to be aware of the evolution I have undergone in these last four years. My leaving England for China was good for me, did me well."
(SD-Agencies)