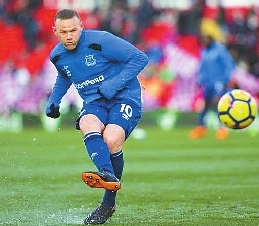 WAYNE ROONEY, the decorated English soccer star, has agreed to a deal with D.C. United and will join the Major League Soccer (MLS) club in time for the opening of its new stadium, ushering in a fresh era for an organization eager to make a splash on and off the field.
According to people close to the negotiations, United has finalized a package with Rooney, 32, on a 2 1/2-year guaranteed contract worth about US$13 million. The organization has also agreed to purchase his rights from Premier League club Everton for an undisclosed transfer fee. United is awaiting only final paperwork to arrive from Everton.
The forward will become the highest-paid player in team history by a large margin and inject the team with a marquee name to appeal to the masses in a city with several larger-than-life sports heroes.
Rooney, the career scoring leader for both fabled Manchester United and the English national team, is scheduled to arrive in the Washington area Thursday afternoon and begin training with his new teammates soon. He is not eligible to play until MLS's transfer and trade window opens July 10, four days before the grand opening of Audi Field, United's new venue.
Rooney brings with him a heady resume and a long list of superlatives. He'll instantly become the most high-profile player to ever don a United kit and, while the league has turned to younger talent in recent years, he joins a prominent group that gravitated toward MLS late in their careers.
It included David Beckham, Thierry Henry, Steven Gerrard, Kaka and Zlatan Ibrahimovic, who joined the Los Angeles Galaxy this season.
(SD-Agencies)