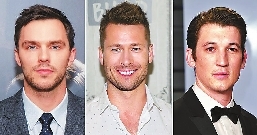 ACTORS Nicholas Hoult, Glen Powell and Miles Teller are the frontrunners for a key role in "Top Gun 2."
The long-awaited sequel to the seminal 1980s movie once again stars Tom Cruise, reprising his role as the hot-shot pilot with the call sign Maverick.
Joseph Kosinski, who directed Cruise in sci-fi thriller "Oblivion," is directing the movie, which is also bringing back Val Kilmer's rival pilot code-named Iceman.
But the highly coveted role for the young men of Hollywood this time around is the son of Maverick's wingman and best pal, Goose. Played by Anthony Edwards in the Tony Scott-directed original, the character provided an emotional spine to the movie when he is killed by accident and Maverick blames himself. The original featured Goose's son as a young boy, with Meg Ryan playing his mother.
Producers — who include Cruise, Jerry Bruckheimer and Skydance's David Ellison — have been testing actors for several weeks, winnowing the list down to Hoult, Powell and Teller. Dylan O'Brien and Austin Butler were among those in the mix in a previous stage.
Insiders say Cruise is prepping to launch his press tour for "Mission: Impossible – Fallout." (SD-Agencies)