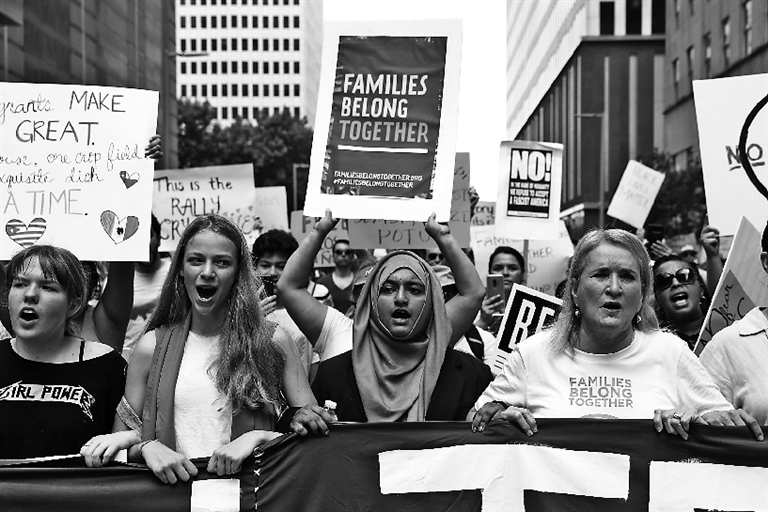 THOUSANDS of demonstrators marched in cities across the United States on Saturday against President Donald Trump's hardline immigration policy and to demand the immediate reunification of families separated at the border with Mexico.
Directly across from the White House, demonstrators filled Lafayette Square park in an atmosphere of both indignation and sadness, before marching toward the Capitol.
Boston, Chicago, Los Angeles, New York and Portland also saw crowds of protesters turn out, with celebrities including Alicia Keys and Lin-Manuel Miranda present in Washington and John Legend in Los Angeles.
"We don't believe in borders, we don't believe in walls," Sebastian Medina-Tayac, of the Piscataway Indian Nation, declared in English and Spanish at the start of the rally dubbed "Families Belong Together."
Loudspeakers broadcast the cries of a child split from relatives, as a Brazilian mother told of being separated from her own son.
"I missed nine months of his life and it should never have happened," said the woman, who only gave her name as Jocelyn. Her case dates from before the practice of separating families intensified in May.
"Shame! Shame!" the crowd responded in temperatures above 33 degrees Celsius.
The president could not hear the protesters' shouts, as he spent the day in Bedminster, New Jersey, at the Trump National Golf Club.
There, too, protesters gathered on his motorcade route, many of them with signs about immigration policy.
"Asylum seekers are not criminals," said one.
Trump took to Twitter to defend his stance on immigration. "When people come into our Country illegally, we must IMMEDIATELY escort them back out without going through years of legal maneuvering," he wrote.
"Our laws are the dumbest anywhere in the world. Republicans want Strong Borders and no Crime. Dems want Open Borders and are weak on Crime!"
Starting in early May, in an attempt to staunch the flow of tens of thousands of migrants to the southern U.S. border every month, Trump ordered the arrest of adults crossing the boundary illegally, including those seeking asylum.
Many trying to cross the U.S.-Mexico frontier are destitute, fleeing gang violence and other turmoil in Central America.
As a result of Trump's crackdown, distraught children were separated from their families and, according to widely broadcast pictures, held in chain-link enclosures, a practice that sparked domestic and global outrage.
Trump later signed an order ending the separation of families, but immigration lawyers say the process of reuniting children and their parents will be long and chaotic. About 2,000 children remained split from their parents, according to official figures released last weekend.
(SD-Agencies)